Hazard Management
To be read in conjunction with
Approval Date
1 December 2019
Approved By
Chief Executive
Next Review
1 November 2020
Responsibility
Deputy Chief Executive: People, Culture and Safety
Baldrige Criteria
Workforce focus
Purpose
To prevent harm to staff, learners, contractors, and visitors as well as preventing property damage by identifying and effectively controlling potential and actual hazards within the workplace and study environment.
Policy
Hazard Identification and Management
1. All workplace hazards and associated risk/s will be systematically identified by Colleges/Programmes and Service areas within Otago Polytechnic Limited by completing a hazard identification process (refer to standard operating procedure Hazard Management SOP).
2. Once a hazard has been identified Otago Polytechnic Limited will make decisions and take all practicable steps to control a hazard by:
a. eliminating the hazard, or
b. where this is impracticable, to minimise the hazard by: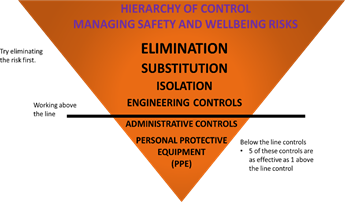 3. Where residual risk remains, an additional risk evaluation is required to ensure the risk is controlled so far as is reasonably practicable. Refer to Residual Risk Evaluation Diagram in Hazard Management SOP.
4. It is the responsibility of Formal Leaders to ensure hazards in their areas of work are identified, risks assessed and controlled appropriately.
5. An annual review/audit of all hazards and safety and wellbeing systems and processes in each work area is required (refer to the process in the Hazard Management SOP).
6. Assistance with hazard identification, risk evaluation, and control measures is available from the work area Safety and Wellbeing Representative, and the Safety and Wellbeing Manager.
7. Basic hazard identification training is provided through the Safety and Wellbeing induction course, which is available for staff and learners online through Moodle. Additional and more in-depth training is provided as a face-to-face session for staff who want to learn this skill and perform this task on behalf of their area.
Risk Evaluation and control measures
8. Once a hazard has been identified, the risk for each hazard needs to be evaluated using the following factors:
a. likelihood of occurrence - how likely are people being exposed to the hazard? (Almost Certain / Likely / Possible / Unlikely / Rarely)
b. severity of effect - what is the consequence of people coming into contact with the hazard? (Catastrophic / Major / Moderate / Minor / Insignificant)
9. Hazards that represent a higher risk are reviewed more frequently to ensure identified control measures are in place and effective.
10. Risks with a catastrophic severity (e.g. potential to cause a fatality, or permanent life-changing injuries) will be identified as a critical risk. The controls to manage these will be closely monitored by the Safety and Wellbeing Manager. The effectiveness of these controls will be regularly reported to Otago Polytechnic Limited Board to provide them with the assurance that hazards are appropriately and effectively under control at Otago Polytechnic Limited.
11. Critical Risks identified at Otago Polytechnic Limited are (in no particular order of severity)
a. Slip, trip, and fall
b. Contractor Management
c. Chemical and Hazardous Substance Management
d. Learner Centred Events
e. Food Safety
f. Falling from Heights
g. Geophysical Emergency
h. Travel
i. Machinery and Equipment
j. Mental Health
Refer to risk assessment tool in standard operating procedures Hazard Management SOP
12. Once evaluated the hazards and risks need to be eliminated/controlled to ensure people do not come into contact with them, or that the consequences of the contact are minimised.
13. Principles of control are pictured in the image in clause 2.
14. If minimisation is the only practicable control mechanism, it must include:
a. Methods of substitution, isolation, and engineering controls.
b. If the above is not possible to achieve then the following must be included:
Training - a written 'safe method of use' e.g. for operating a machine, chemical handling, or biological processes, etc., and a record of the training given.
c. Supervision while learning and until competent, and where appropriate.
d. The provision and wearing of approved personal protective equipment (PPE);
e. Signage relating to hazards and controls e.g. at the entry to a hazardous work area; beside dangerous machinery;
f. Monitoring for potential exposure, by environmental and health monitoring. Health monitoring is carried out with the consent of employees, and others (refer to Occupational Health and Exposure Monitoring Policy).
15. To determine the success of the control measures an additional risk evaluation and rating will occur by the work area. This will identify any remaining risk (residual risk). Refer to Residual Risk Evaluation and Risk Assessment Tool in Hazard Management SOP.
Monitoring
16. Hazard Identification forms (Vault) are reviewed by the Safety and Wellbeing Manager, Safety and Wellbeing representative, and Formal Leader, and tracked for completion or progress by the appropriate parties (e.g. Campus Services, Formal Leader).
17. Service requests with a safety and wellbeing component need to be completed in conjunction with the Vault system.
18. An event involving new or existing hazards will be linked in Vault to enable areas to review the effectiveness of the hazard controls. The intention is to see if additional controls are needed to be put in place to prevent a reoccurrence.
Hazard Identification Awards
19. Each year, a Safety and Wellbeing representative, a Union representative, and a senior manager review the nominations for Safety, and Wellbeing reward and recognition programme and select one overall winner for the year. Refer policy Staff Excellence Awards.
20. The overall winner receives an award certificate and prize from the Chief Executive at the beginning of the year at the annual Staff Meeting.
References
Hazard Management SOP
Policies
Occupational Health Monitoring
Staff Excellence Awards
Accident Incident Injury and Illness – Reporting and Rehabilitation
Department of Labour, Occupational Safety and Health, best practice guidelines – www.osh.dol.govt.nz
ACC Hazard Management – www.acc.co.nz