Strategic Asset Management
To be read in conjunction with
Strategic Asset Management Guidelines
Approval Date
1 July 2019
Approved By
Chief Executive
Next Review
1 August 2020
Responsibility
DCE: Corporate Services
Baldrige Criteria
Workforce focus
Purpose
This policy is about the management of Strategic Assets and involves investment in planning acquisition, management, construction, maintenance, renewal, and disposal of infrastructure assets (e.g., land and buildings, site improvements, information technology hardware, plant, specialist teaching equipment and motor vehicles) across Otago Polytechnic Limited (Ltd) in order to serve its primary purpose: to deliver high quality programmes of learning to learners.
To this end the building, infrastructure and other major assets should support the achievement of the Polytechnic's Vision and Strategic Directions effectively, and at the lowest whole of life cost.
At an organisational-wide level this policy will:
a. Provide for a long-term vision for the Polytechnic's practice of strategic asset management.
b. Mandate the responsibilities of, and generate useful dialogue between, asset users and asset managers.
c. Provide for the capital works investment determined by whole of life considerations (30-40year cycle) i.e., CAPEX versus OPEX;
d. Allow for "ease of maintenance" factors to be considered in the design stage.
e. Align, support and inform the rebuild programmes.
Compliance
Requirements monitored by:
Policy
1. This Policy applies to strategic assets such as buildings, infrastructure, IT and teaching assets owned or leased by Otago Polytechnic Ltd.
2. For an overview of how the Strategic Asset Management (SAM) processes, planning and implementation are managed at Otago Polytechnic refer to diagrams in Appendix 1 and Appendix 2, and refer to Strategic Asset Management Guideline for definitions and other best practice procedures.
3. The Polytechnic will ensure that at all times there is:
a. A current Strategic Asset Management (SAM) Plan in place, reviewed annually and approved by the Executive Leadership Team and/or OP Board
b. A current Level of Service schedule, approved by Executive Leadership Team.
c. An annual audit of Otago Polytechnic's asset management - CAMS audit. Every second year this will be an external audit.
d. An Asset Management Implementation Plan incorporating the recommendations of the CAMS external audit with appropriate performance measures. This will ensure the continuous improvement of Asset Management practices.
e. Current Campus Plans for the Dunedin, Cromwell, and Auckland (OPAIC Ltd.) campuses; as well as a Maintenance plan; and that these are aligned with the principles and objectives of the SAM Plan and Levels of Service and reviewed annually.
4. The SAM Plan provides the context, rationale and expectations for the Dunedin, Cromwell, Auckland, Maintenance Plans and other asset planning documents as well as all Business Case planning for the procurement of new buildings and major capital works. The principle elements that inform Otago Polytechnic's SAM Plan are:
a. Asset management as an essential part of good business planning.
b. Effective asset management as an organisation-wide approach.
c. Levels of Service that match client/business expectations and ability to resource these.
d. Managing risk as an essential part of managing OP assets.
e. Planning that provides financial forecasts and work effort schedules to both underpin short-term budgets and ensure integration with the required long- term plans.
f. The Polytechnic's asset management principles are applied to the design of all capital works.
5. The Maintenance Plan is informed by the asset life-cycle reporting, in order to maintain assets; and the Levels of Service at the lowest long-term cost and is reviewed annually.
6. The Polytechnic's Asset Management Planning Group (AMPG) will meet at least four (4) times per year and guide and monitor the Asset Management Implementation of this Policy.
7. The AMPG will focus on planning – not operations - and guide the Asset Management Implementation Plan in order to achieve the performance measures defined in it and the improvement targets prioritised by the CAMS audits.
References
Appendix 1: Otago Polytechnic Strategic Asset Management (SAM) diagram
Appendix 2: Otago Polytechnic Asset Management Planning and Implementation diagram
Strategic Asset Management Guideline
Policies
Authorities and Delegations from Chief Executive
Specific Financial Authorities and Delegations
Risk Management
Asset Management (Operational - Acquisition and Disposal)
Procurement and Purchasing
The following corporate documents are available on request from the DCE: Corporate Service
Strategic Asset Management Plan (SAM Plan)
Levels of Service (LoS)
Capital Asset Management Audit (CAMS) Audit (undertaken annually; external audit every other year)
Asset Management Implementation Plan (AMIP)
Appendices
Appendix 1: Otago Polytechnic Strategic Asset Management (SAM) diagram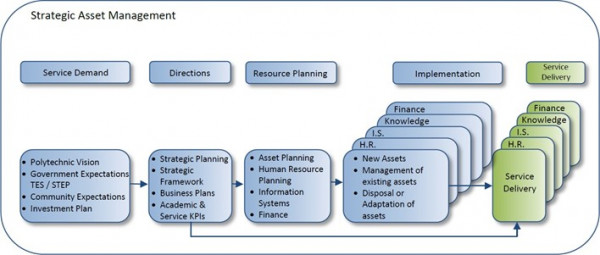 Otago Polytechnic SAM planning processes results in:

Assets and facilities that direct available funds to support OP's Vision
Cost effective facilities that conserve valuable and non-renewable resources
Acquisition of fit for purpose assets and asset maintenance and development that will ensure on going fitness for purpose for students and staff.
Assets acquired to accommodate long-term sustainable demand rather than to meet short-term imperatives.
Retirement or disposal of ageing facilities that have become costly to maintain and less supportive of the mission
Exit non-viable leased premises or land that inhibits OP's long-term planning for the facilities required to deliver OP's Strategic Directions and Vision.
Appendix 2: Otago Polytechnic Asset Management Planning and Implementation diagram