Pasifika Learners' section
New, shiny, and glossy, and best of all relevant and useful, let us present the Pasifika Learners' website section! Warm Pacific greetings!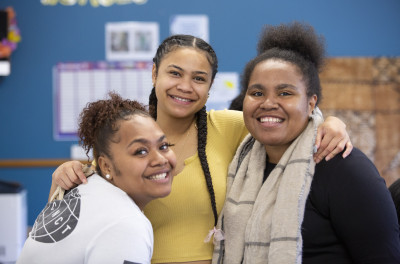 Otago Polytechnic welcomes and offers support to all our Pacific Island learners and one of the ways we do this is with our newly launched Pasifika Learners' section of the Student Support Te Ama Tauira website. Designed as an online space for our current Pasifika learners, it offers support and information to help them succeed on their study journey.
Along with quick links to our support services and Pasifika Scholarship information, it also offers a selection of relevant learning and support resources, handpicked by the Pasifika learners' advisors. Two new pages complete the line up; Pasifika Support at OP and Pasifika Community.
The Pasifika Support at OP page contains a welcome and introduction to the Pasifika Learner advisors, contact details, info on support services and a selection of OP Pasifika learners' stories as short videos.
The Pasifika Community page has a comprehensive list of community links for our learners so they can find Pasifika connections in your community.
You can access the new website section through the home page of the Student Support Te Ama Tauira website.
Huge thanks to our Pasifika learners for putting up with me photographing them and videoing them! They had some amazing things to say about OP. Watch more of the videos on the Pasifika Support page.
Any feedback or comments about the new section please let us know. Contact, Emma Allen at Learning and Teaching Development.

Published on 7 Jul 2021
Orderdate: 7 Jul 2021
Expiry: 7 Jul 2023