Microsoft Office 365 for Students
What if you had access to free productivity tools that would not only help you succeed in school, but that would help to prepare you for life after graduation?
Thanks to Otago Polytechnic agreement with Microsoft, from semester one all our learners will get a Microsoft Office365 ProPlus License. This will entitle ourlearners to receive FREE copies of Microsoft Office 2013/2016 for their PC and Mac, which you can install on up to five devices. The cloud-based productivity tools will let you access assignments in shared workspaces, synchronize your notes with OneNote, and communicate and collaborate on projects with familiar applications like Work, PowerPoint and Excel – anywhere, anytime and across virtually any device.
What are the benefits of Office 365 ProPlus?
Office 365 ProPlus comes with - Word, Excel, PowerPoint, OneNote, Access, Publisher, Outlook, Skype for Business, InfoPath, OneDrive for Business. Please Click

here

to download your free copy.
Office Online

- Create and edit Word, OneNote, PowerPoint, and Excel documents from a browser.

Learn more

SWAY

- With

Sway

, a new Office 365 app, teachers can create interactive web-based lessons, assignments, project recaps, newsletters, and more—right from a phone, tablet, or browser. Students can use Sway to create engaging reports, assignments, projects, study materials, and portfolios. Sways are easy to share and look great on any screen.

Learn more

OneDrive for Business -

This cloud storage system offers up to

1TB of storage space

(compared with only 500MB which is currently available through H: Drive). You can access this service anywhere on any device and it allows options for sharing documents and multi-user editing as well as syncing.

Learn more

Use

Skype for Business

to communicate to tutors or other students.

Skype for Business

can be used for instant messaging (IM), voice, video conferencing and screen sharing.

Learn more

To access your Microsoft Office 365, Please Click here >


Click the

"Tile Icon"

to explore the features available to you in Office 365.
How do I download Microsoft Office 365 for free?
1. Go to the Student Hub and click email. Login if you need to.
2. Click the cogwheel button, and then "Office 365 settings."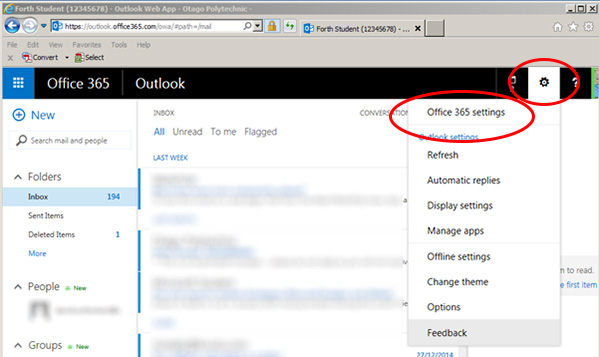 3. Click on "Software", then click on the "install" button to begin installing Office 365.