Possession
Author: Sarah McKay
---
Possession
Sarah McKay
20 April 2021

McKay, S.K. (2021). Possession. (A dissertation in partial fulfilment for the Master of Fine Arts degree at the Dunedin School of Art, Otago Polytechnic, Dunedin, New Zealand)


Abstract
This project by Sarah McKay consists of a studio component alongside this dissertation which should be read alongside the studio work exhibited publicly and imaged in the text. The writing explores the photographic practice through a focus on light and dark; the senses and memory; time and space; and surface and materiality. The work of many artists whose practices are important for McKay are investigated and imaged in the dissertation. Some of these artists are László Moholy-Nagy, James Welling, Uta Barth, James Turrell and Chihiro Shiota, Tokujin Yoshioka and others. McKay's own studio work for this project builds on previous explorations, culminating in "Possession", consisting of two parts: a sculptural work made with video tape that invites the viewer to step inside its darkness and tensions; and a series of photographic prints that brings the tensions into the light as aesthetic forms made manageable and controllable. The two parts are analogous with the mental state of confusion, fear, and disorientation on the one hand and a 'coming into the light' when a mental state shifts to understanding, clarity, and power regained.
Sarah's academic supervisor was Leoni Schmidt.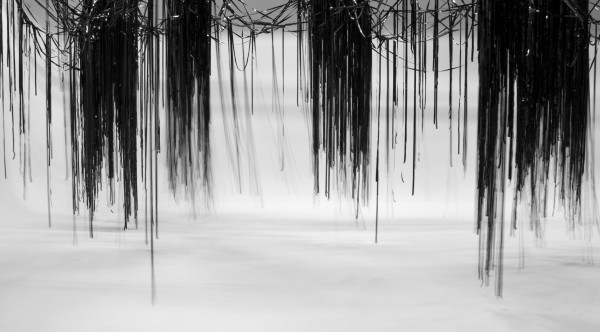 Image: Close up of artwork by Sarah McKay. All rights reserved.
License
This abstract is available under a Creative Commons licence CC BY-NC-ND 4.0. The dissertation will be available at the Robertson Library, University of Otago.