Mapping the Anthropocene in Ōtepoti/Dunedin
Climate change, community & research in the creative arts
Mapping the Anthropocene in Ōtepoti /Dunedin brings together mana whenua, artists, designers and architects, scientists and speakers from the environmental humanities to present a picture of where we are as we learn to live with and act in the changing environment some call the Anthropocene. The term refers to the human-induced changes to our world's systems. The hui is nested within an exhibition at the Dunedin School of Art, Te Maru Pūmanawa | College of Creative Practice and Enterprise. The hui also reflects Dunedin School of Art's 150th anniversary and its role within the cultural life of Ōtepoti /Dunedin .
Today's world is troubling and confusing. Together we are entangled in an increasingly complex world that challenges our knowledge and our feelings. Artworks can help us to negotiate this complexity as they offer an alternative space to contemplate the global and the local, the self and the wider, collective world shared by human and non-human alike that is so increasingly affected by our actions.
The hui takes place over Saturday and Sunday, with a celebration of the exhibitions on Saturday evening.
Dates: Saturday September 26 – Sunday September 27 2020.
Venue: Dunedin School of Art and Otago Polytechnic | Te Kura Matatini ki Otago, Dunedin Ōtepoti
The programme is offered on-line and on-site and our information will be updated as COVID-19 Levels and scenarios change. Bookings are essential.
Symposium Programme and Abstracts Booklet | Symposium documentation channel | Exhibition Essay | Exhibition Catalogue | Exhibition Documentation (flickr) | Exhibition documentation (videography) |
Associated Community Event:
String-making and basket weaving workshops using t¯i k¯ouka cabbage tree leaves with Rekindle (with thanks to support from Otago Community Trust).
Media:
Otago Daily Times - Arts Feature
Otago Daily Times - Art Seen Review
This symposium was presented by the Dunedin School of Art and Te Maru Pūmanawa | College of Creative Practice and Enterprise in association with the 150th anniversary of the Dunedin School of Art and its roles in the histories of the wider creative arts in Aotearoa/New Zealand.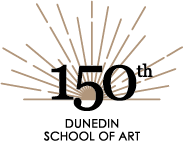 Image Credit : Department of Lands and Survey. Sketch plan of Dunedin & surrounding districts [cartographic material] / G.P.W... Ref: 834.52a 1891. Alexander Turnbull Library, Wellington, New Zealand.