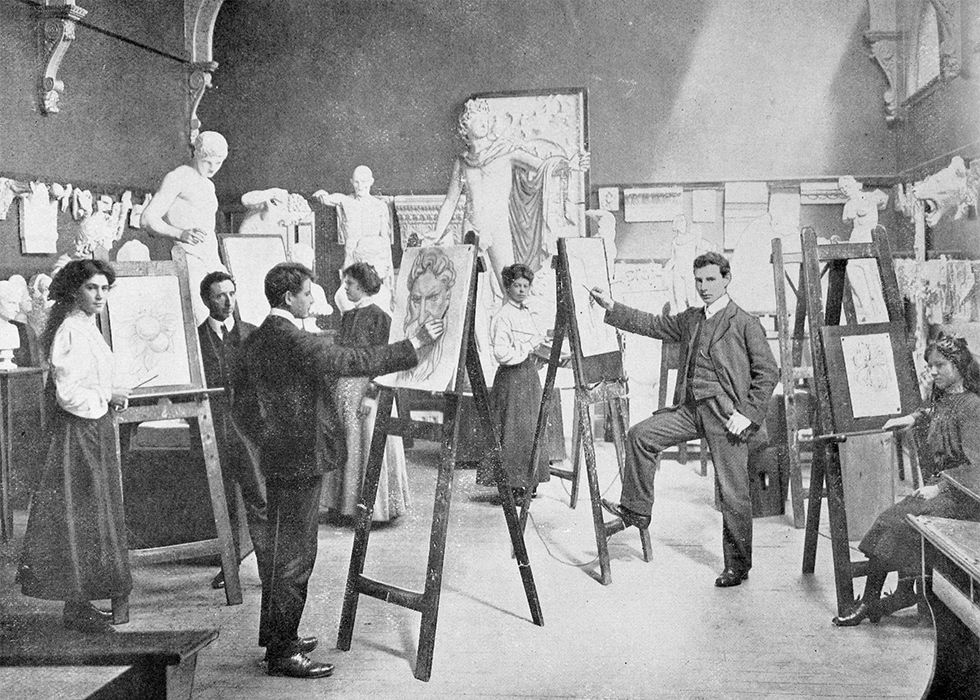 The first Art School in New Zealand
In 1870 David Con Hutton migrated from Scotland to found the Dunedin School of Art. The rest, as they say, is history.
In the early years, many high-profile lecturers arrived from the United Kingdom and Europe, such as the Italian, Signor Girolamo Nerli. These European influences introduced modernist art to New Zealand. Despite ravages to student numbers due to two world wars, the school survived. It went on to become a major driver of arts education and Māori involvement in New Zealand primary and secondary schools under the now famous Gordon Tovey Scheme. In the sixties, it became a division of Otago Polytechnic and started offering degree and postgraduate degree programmes.
Photo: The Otago School of Art. Reorganised by Mr R.Hawcridge: The Antique Room.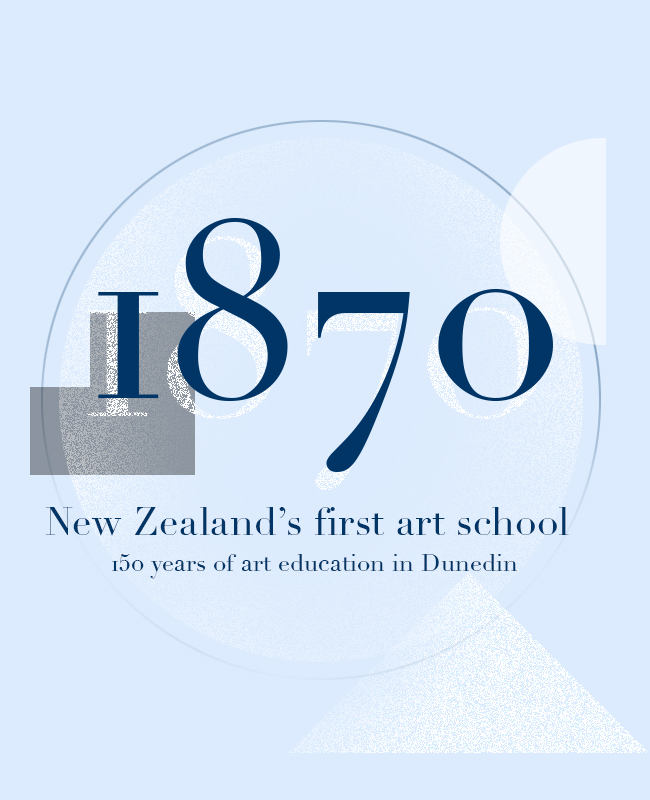 The Dunedin School of Art is very much the jewel in Dunedin's cultural crown.
A hot pot for the contemporary arts scene, the school has spawned generations of cutting-edge artists who have fostered the unique cultural identity of Dunedin.
Let's come together in 2020 and celebrate the sesquicentennial of the oldest art school in New Zealand!


Photos: David Con Hutton, Head of the Dunedin School of Art from 1870 to 1908.
A full account is recorded in Scope: Art & Design 12, Dunedin School of Art: A history
---
1870

New Zealand's first art school established in the Exchange by Scottish immigrant, David Con Hutton.

1984

Moved into redeveloped premises in the old Dunedin North Intermediate buildings on the corner of Albany Street and Anzac Avenue.

1876

Relocated to Moray Place with 244 students and 3063 secondary school pupils receiving tuition.

1985

Honours fourth year of study approved.

1884

Signor Girolamo Nerli arrived from Italy to teach, influencing Frances Hodgkins.

1986

Diploma in Fine Arts (Hons) approved

Introduced Certificate in Craft Design

1924

Joined King Edward Technical College and moved into their Stuart Street premises.

1988

The Department of Education approved the purchase of 8 Commodore Amiga 2000 computers at a cost of $35,000 and Computer Graphics being introduced as a new subject.

Master of Fine Arts was approved.

1930s

Students Colin McCahon and Toss Woollaston introduced modernism to New Zealand.

1990

Three-year Diplomas in Ceramic Arts and Craft-Design.

1937

Moved to purpose-built premises at the corner of York Place and Tennyson Street.

1993

Four-year Bachelor of Fine Arts replaces three- year Diploma in Fine Arts

1946

Emerged from WW2 with only four fulltime staff and five senior students enrolled.

1995

Inaugural SITE exhibition.

1966

Became part of Otago Polytechnic.

1996

Diploma in Fine Arts at Otago Polytechnic's campus in Oamaru ceased.

Shifted to a purpose-built facility in Riego St.

1967

Diploma in Fine and Applied Arts was introduced

1997

Master of Fine Arts programme established – Otago Polytechnic's first master's degree programme.

1970

Celebrated centennial anniversary.

2000

130th anniversary celebrated with a significant exhibition titled 'aureliae'

1972

Fine Arts Conservation being introduced.

2003

Junctures Journal founded.

1974

A certificate in ceramic inbeing introduced.

2006

Scope Journal: Contemporary Research Topics (Art & Design) established.

1975

Became a stand-alone department at Otago Polytechnic.

2009

Three-year Bachelor of Visual Arts replaces four-year Bachelor of Fine Arts.

1977

Degree-equivalent Diploma in Fine Arts introduced.

2010

Postgraduate Programmes in Visual Arts approved including Honours year and Master of Visual Arts

1979

Diploma in Fine Arts approved as degree-equivalent.

2011

Dunedin School of Art Foundation launched.

1980

School's skeleton stolen.

2020

150th anniversary celebrated.
Our distinguished alumni of yesterday and today
Many famous artists are now associated with the School, either as students or through their involvement with its sister institution, the Dunedin College of Education (now incorporated into the University of Otago). Colin McCahon, Toss Woollaston, Marilynn Webb and Ralph Hotere come to mind. Closer to our time, Simon Kaan, Rachael Rakena, Bridgit Inder, Marie Strauss, Kurt Adams and many others spread the word nationally and internationally about how well students are equipped through the integration of practice and theory during their years in the School.
A qualification for a creative future
Students in the Dunedin School of Art are encouraged to engage in robust debate and to defend their position about cultural issues. They become extremely flexible in the process and go on to find a wide range of employment after graduating. Teaching, project management, curatorial services, professional photography and positions in the electronic arts sector are a few examples from many. Staff are highly qualified and have current research profiles; they exhibit, write and present in New Zealand and overseas' galleries, journals and conferences.
The Foundation: looking to tomorrow
Reciprocity lies at the heart of the Dunedin School of Art Foundation. It invites community support and promises to consider public requests, for example invitations to exhibitions, seminars, symposia and other events or custom-planned events for teams of corporate staff and professional bodies. Nicolas Bourriaud writes that the role of art today is "…learning to inhabit the world in a better way…the role of artworks is to actually be ways of living and models of action [rather than being isolated objects]."i Through the Dunedin School of Art Foundation, creativity and its communities in this city could become an art work together in itself: modelling reciprocity through cultural engagement for mutual benefit and providing an innovative example of art and community interface for the world at large