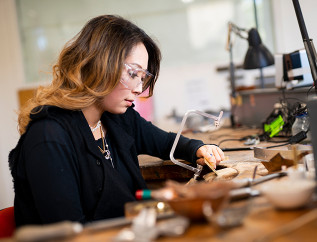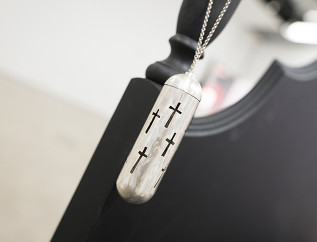 Location

Dunedin School of Art (P block, Riego Street)

Duration

One class per week for eight weeks: Tuesdays or Wednesdays, 6.00-8.00pm

Delivery

On campus
Start

Term one: 21 February - 15 April
Term two: 2 May – 24 June
Term three: 11 July - 2 September
Term four: 12 September - 4 November


Apply

You can apply anytime by clicking the light blue APPLY button (directly above the fee shown to the right of your screen). This will take you to our Eventbrite page where you can apply and pay online.
This class is for people with previous experience in jewellery making.
You will need basic jewellery soldering skills and the ability to use a jewellery saw. You will build on your knowledge through group demonstrations and will have the opportunity to work with the tutor on individual projects and develop a better understanding of jewellery making.
Each term a new skill will be introduced:
> Term 1 Casting using Delft Clay: This is a sand casting process in which metal objects are cast from a mould.
> Term 2 Chain and brooch making. There will be a focus on jewellery findings: clasps, toggles and brooch pins etc…
> Term 3 Basic stone carving and stone setting: You will learn to use wet diamond grinding tools and how to carve basic stones to set within jewellery.
> Term 4 Using resin for colour, translucency & embedding: You will learn the technique of cold enameling, in which resin is used to put colour into your jewellery pieces.

While each of the skills will be presented assuming no prior jewellery experience, those wishing to build on their knowledge will have the opportunity to work with the tutor at a more advanced level.
2022 term dates

| | |
| --- | --- |
| Term one | 21 February - 15 April |
| Term two | 2 May – 24 June |
| Term three | 11 July - 2 September |
| Term four | 12 September - 4 November |

Please note: There will be no classes on Otago Polytechnic holidays or public holidays. No classes during Easter week of 5 – 9 April.

Monday classes: No classes 21 March (Otago Anniversary Day)

Monday classes: No Classes 6 June (Queens Birthday)

Monday classes: No classes 24 October (Labour Day)
What if I want to attend the same course next term?

If you want to repeat this course, you will need to apply and pay for each term separately via our Eventbrite platform (by clicking the APPLY tab in the top right corner of this page).
Learners under 16

We welcome learners under 16 but they do need parental consent to take this night class.
If you are a learner under 16, please do the following:

ask your parent or guardian if it's okay for you to do this night class
apply online and tick the box during the application process that says that you are under 16
ask your parent or guardian to send an email to anca@op.ac.nz (Art Night Class Administration) letting us know that they're happy for you to take the night class.
Directions

Classes are held in the Jewellery Studio at the Dunedin School of Art. Please click here for a map.

Go to the main entrance of the Dunedin School of Art at 19 Riego St (off the Anzac Avenue end of Albany St). The Jewellery Studio is on the ground floor, opposite the main entrance.
Tutors

Sessions will be presented on Tuesdays by Antonia Boyle and on Wednesdays by Brendon Monson.
Materials

The Art School Jewellery Studio is well-equipped and provides a safe and sociable working environment.

Costs for materials will vary depending on the choice of jewellery materials.

Expect to spend about $20-30 on consumables like sawblades and solder. Some silver and base metals are available for purchase from the studio. Found objects and materials can be used for many projects and are a great starting point.
Enquiries
Disclaimer

While every effort is made to ensure that this sheet is accurate, Otago Polytechnic reserves the right to amend, alter or withdraw any of the contained information. The fees shown in this document are indicative ONLY. Both domestic and international fees are subject to change and are dependent on the development and implementation of Government policies. Please note that additional fees may from time to time be required for external examination, NZQA fees and/or additional material fees.