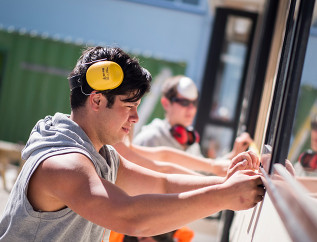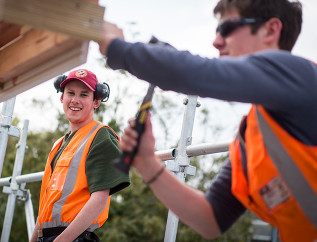 Location

Dunedin and Central

Duration

Three and a half to four years full-time; part-time not available
Level

4

Start

Flexible

Apply

Now - contact Carpentry@op.ac.nz
Location

Intake

Study breaks

Central Otago

1 January 2021

Dunedin

1 January 2021
Carpentry apprenticeships (ITAB)
Become a carpenter, site supervisor, building project manager, construction firm owner or self-employed builder.
Learn from professionals and gain sought-after skills with this carpentry apprenticeship pathway brought to you by Otago Polytechnic and Industry Training Association Building (ITAB). This apprenticeship option allows you to work in the construction industry as an employee, under the supervision of someone who is prepared to train you. It addresses industry standards and provides learners with the full support of regional coordinators.
At the completion of your apprenticeship - which allows you to earn while you learn - you will achieve a respected and in demand qualification, the New Zealand Certificate in Carpentry (Level 4). This qualification is a gateway qualification to becoming a Licensed Building Practitioner (LBP) and will be awarded to you by Otago Polytechnic.
Apprenticeship benefits

Apprentices can also gain ITAB membership which offers additional benefits like discount vouchers, awards, competitions and scholarships.

For more information on ITAB member discounts including savings on clothing and electronics and much more visit https://www.itab.co.nz/itab-benefits/
Entry requirements

You must be working in the construction industry as an employee or contractor; be supervised by someone prepared to support your training; and enter into a training agreement with your employer and Otago Polytechnic.

Please contact one of our apprentice assessors (see Contact us section below for contact details) to make an initial appointment to discuss your apprenticeship.

If English is not your first language, you must provide:

If you need to improve your English Language skills, we offer a wide range of English programmes.
Your workload

You will undertake three block courses in the first year and two block courses in your second and third year's. There are no block courses during your fourth year (unless you have missed previous block courses and then the fourth year gives you a chance to attend these and catch up).

The pathway will be slightly different if you have completed a Pre-Trade programme prior to an apprenticeship. This pathway will be discussed with you in your initial sign up meeting.
Practical Record of Work - (Paper or e-Portfolio)
Block course scholarships

If you need to attend block courses, live outside Dunedin or Cromwell and require assistance with travel and accommodation, you may be entitled to assistance under the Apprenticeship Scholarship Trust. For more information on this, please visit https://www.itab.co.nz/grant-application-form/
New Zealand Carpentry Apprentice Challenge

Once a year, Otago Polytechnic hosts a regional carpentry apprentice challenge for the New Zealand Certified Builders. The winner of the regional competition gets to compete at the Apprentice Challenge, held each year at the National Certified Builders Conference.
Further study options
Paying for your study

TTAF

The Government's Targeted Training and Apprenticeship Fund (TTAF) is currently running but will end in December 2022. That means only your 2022 study will be covered. You may be able to get some financial help for your remaining study through the Fees Free scheme if you're eligible (see info below).

Whilst this programme is free for you to study during 2022, the TTAF fund only covers tuition fees and compulsory costs such as student levies. It does not cover any additional costs or living costs. You can pay for additional and living costs by yourself if that is possible or by applying for a loan or allowance through Studylink (which is only available for domestic learners).

It is important to apply for your student loan/allowance at the same time as you apply for this programme, due to the length of time Studylink take to process. Loan/allowance applications can be cancelled at any time if you decide to withdraw your programme application or if it is unsuccessful.

For information about student loans and allowances please visit the Studylink website.

Fees Free

The Government is also running a funding scheme called Fees Free for domestic learners. This scheme normally pays for your first year of study if you've never been enrolled in tertiary study over 60 credits at Level 3 or higher in New Zealand. They have confirmed that TTAF does not impact on a learner's entitlement to also access the Fees Free scheme.

So, you'll be covered by TTAF for your 2022 study and, if you would have originally been eligible for Fees Free, you'll be able to access that to cover some of your remaining study.

You can check your Fees Free eligibility here >

Fees Free only covers your tuition fees. You would still need to pay for things like accommodation, living costs and placement transport costs.

Again, you can pay for these costs by yourself if possible or by applying for a loan or allowance through Studylink (only available for domestic learners).

If you have any questions about student loans and allowances, please email our Studylink Advisor: Amanda.McAra@op.ac.nz
Contact us