Architectural Studies
---
The world needs talented architectural designers and technologists. Learn to harness light, space, line, form and function to shape the built environment.
Start with the Bachelor of Architectural Studies - it's the beginning of an excellent career in the world of architecture.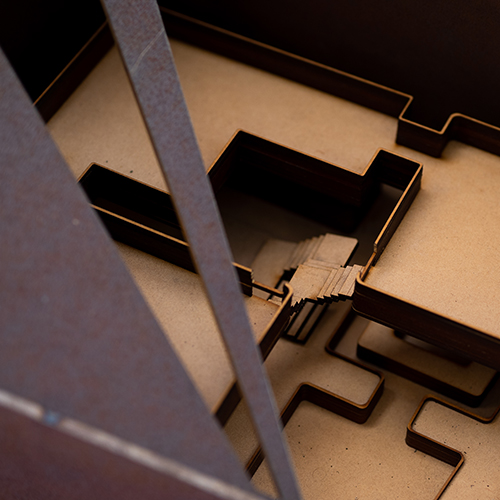 Bachelor of Architectural Studies (Architectural Technology) or (Interior Architecture)
Prepare to work as an Architectural Technologist or for further study if you want to become an Architect or Interior Architect. In addition, this programme will enable you to develop your awareness of the social responsibilities of designers and technologists within the built environment. How to apply >
Architectural Technologist
An Architectural Technologist is a design specialist with knowledge of building science, engineering and project management. They are the conduit that transfers an architect's vision through to the reality of construction. This is a career in its own right or the first part of the required higher education component of becoming an architect. This is different to an architectural technician (draughtsperson) who works on the detailed aspects of a project
Interior Architect
An Interior Architect designs the interior of a building. They create the look, feel, experience and atmosphere of a space, while taking access, building services and systems into account. You can see their work in theatres, commercial spaces, restaurants, civic buildings, malls, and luxury homes. This is different to an interior designer who plans the colours, fabrics and furnishings for a space.
---
How do you become an architect?
Architect is a protected occupation. In New Zealand you can't legally call yourself an architect unless you're registered by the New Zealand Registered Architects Board (NZRAB).
It takes 5 years of study and 3+ years of professional experience before you can register to be an architect.
You need a 3-year Bachelor of Architectural Studies (or equivalent) and a 2-year Master of Architecture (Professional) to meet the study component of registration with NZRAB.
Why do you need two degrees to become an architect?
It's the international standard now. There used to be a 5-year Bachelor of Architecture that had the same outcomes as the current master's degree. But in 1999, European education ministers signed the Bologna declaration to standardise degrees and make them compatible from country to country.
48 countries around the world now have a 3-year Bachelor + 2-year Master tertiary pathway.
New Zealand got on board with this in 2007. So no more 5-year bachelor's degrees. But, on the upside, our qualifications make sense internationally. This is good news when you want to study and work in another country – especially when you are in a protected occupation.
---
Does this sounds like you? Apply now to develop your career as an Architectural Technologist or Interior Architect. How to apply