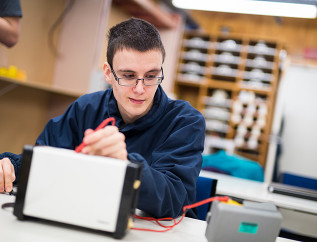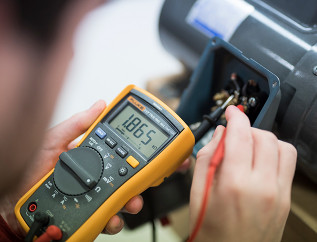 Location

Dunedin

Duration

One year full-time; part-time not available

Delivery

On campus
Credits

120

Level

3

Start

February


Apply

Until start date
Location

Intake

Study breaks

Dunedin

22 February 2021

5 July 2021 - 23 July 2021
19 April 2021 - 30 April 2021
20 September 2021 - 1 October 2021


Dunedin

21 February 2022

27 June 2022 - 15 July 2022
18 April 2022 - 29 April 2022
3 October 2022 - 14 October 2022

Want to enter the electrical industry but not sure where to start?
Otago Polytechnic is the only provider of this certificate in the Otago region and our lecturers have strong industry connections. Benefit from their expertise and experience and enjoy the chance to gain theoretical knowledge by undertaking practical, hands-on work.
This project-based qualification where you will study topics such as Electricity Systems, Installation Fundamentals and Circuit Design and Operation will provide you with the knowledge and skills to enter employment in the electrical industry. If you want to become an electrician, this is the ideal pre-apprentice preparation. Alternatively, you may gain employment in non-registration areas of this industry such as electronic security, appliance servicing and automation. There is the chance for progression and promotion in these areas with further study and/or industry exams.
Upon successful completion of this level 3 certificate, you could enter an apprenticeship agreement with an employer and Otago Polytechnic to complete our Level 4 apprenticeship programme.
Entry requirements

You must have achieved NCEA Level 2 in maths, English, and physics or general science OR equivalent.
If English is not your first language, you must provide:

If you need to improve your English Language skills, we offer a wide range of English programmes.

Please note: You must hold a current First Aid Certificate before you can be awarded this qualification. If you do not attend or do not pass the first aid course as part of this programme, you will need to attend a first aid course at your own expense prior to programme completion.

Selection procedure

Applicants are accepted using the entry criteria on a first-come, first-in basis. Should the number of applicants exceed the available places, applicants will be placed on a waiting list in order of the date they applied. All applicants will be interviewed.
You will study

This programme provides the electrical industry with people who have introductory knowledge of safe electrical installation, testing, commissioning, and servicing of electrical installations and equipment. It provides pre-entry foundation knowledge of electrical engineering and is suitable for those who wish to enter the industry but do not yet have an electrical apprenticeship agreement.

Upon successful completion of this qualification, you will have an operational and theoretical knowledge of electricity production, distribution, and utilisation, and will be able to carry out a limited range of prescribed electrical work safely and ethically under supervision in accordance with the Electricity Act 1992.
Courses

All courses within this qualification are compulsory.

| | | | |
| --- | --- | --- | --- |
| SMS Code | Course title | Level | Credits |
| Semester one | | | |
| ET3050 | Electrical Work Practices | 3 | 15 |
| ET3020 | D.C. Fundamentals | 3 | 15 |
| ET3070 | Electricity Systems | 3 | 15 |
| ET3060 | Electricity Supply and Distribution | 3 | 15 |
| | | | |
| Semester two | | | |
| ET3080 | Installation Fundamentals | 3 | 15 |
| ET3030 | Electrical Applications | 3 | 15 |
| ET3010 | Circuit Design and Operation | 3 | 15 |
| ET3040 | Electrical Machines | 3 | 15 |
| | | | |
| | Total credits | | 120 |
Your workload

You will be expected to complete up to 30 hours of contact time at the Polytechnic and up to 10 hours of additional self-directed study per week. Usual timetable hours are Monday to Friday, 9.00am - 3.00pm, with Wednesday work experience.
Further study options
Additional costs

Please note that the following items may be covered by course related costs:

You are required to provide your own personal stationery, calculator and safety footwear. It would also be an advantage to have a laptop to bring to class or at least a PC available. It is required that you have the following textbook:

Electrical Wiring Practice

and

Electrical Principles for the Electrical Trades

This can be purchased at the University Bookshop for approximately $300.00

You will be required to purchase an electrical tool set for approximately $300.00 during the first term of the programme.
Student loans and allowances

Student loans and allowances are for domestic students only. For information about student loans and allowances please visit the Studylink website. It is important to apply for your student loan/allowance at the same time as you apply for this programme, due to the length of time Studylink take to process. Loan/allowance applications can be cancelled at any time if you decide to withdraw from your programme application or if it is unsuccessful.
Apply Now