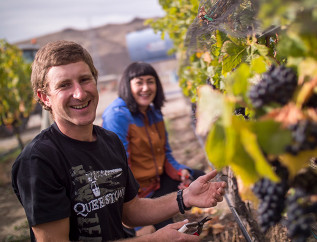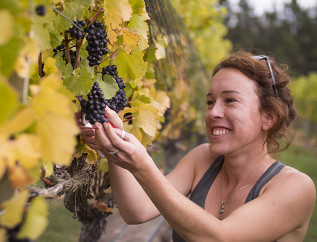 Location

Central Otago Campus, or
Online and in your work place

Duration

1 year full-time; two to three years part-time
Level

5

Start

February and July
Location

Intake

Study breaks

Central Otago

15 February 2021

28 June 2021 - 16 July 2021
5 April 2021 - 16 April 2021
27 September 2021 - 8 October 2021


Distance

1 February 2021

28 June 2021 - 16 July 2021


Central Otago

21 February 2022

4 July 2022 - 29 July 2022
18 April 2022 - 29 April 2022
3 October 2022 - 14 October 2022


Distance

1 February 2022
Progress your career in the national or international horticultural communities by gaining the knowledge and skills to become a competent leader in the stonefruit, pipfruit, berry or wine grape production industries.
All of our teaching centres around sustainable growing principles and you will gain hands-on experience and industry contacts through professional work experience. In addition, our unrivalled Central Otago Campus practical horticulture facilities include a propagation nursery, hydroponics unit, modern glasshouses, 7-hectare crop production unit and vineyard.
Upon successful completion of this programme, you will graduate with the New Zealand Diploma in Horticulture Production (Level 5) (Fruit Production).
Skills required

An enjoyment of working outdoors
Physical fitness
Planning and organisational skills
Good communication skills
An eye for detail.
Entry requirements
Want your existing skills recognised?

If you have extensive knowledge and skills due to practical experience in this area, enquire about our recognition of prior learning process. You may have already gained credits towards this qualification.
Additional documentation

You need to provide academic records, proof of identity and proof of residency (where appropriate).
Selection procedure

Applications will be processed as they are received. If the number of applications exceeds the number of places available, applicants will be placed on a waiting list in the order that they applied.
Courses

| | |
| --- | --- |
| Course name | Credits |
| Leadership and Relationship Management | 15 |
| Professional Work Experience | 20 |
| Capstone Project | 30 |
| Crop Development and Quality | 15 |
| Weather and Crop Protection | 10 |
| Soil and Water Dynamics | 15 |
| Pest, Diseases and Weeds | 15 |
| Total | 120 |
Block courses

All the courses will be run in blocks for industry-based learners.

Please email jason.barry@op.ac.nz for more information.
Further study options

Continue your learning with degree and postgraduate-level horticulture programmes at Lincoln and Massey Universities in New Zealand.
Paying for your study

TTAF

The Government's Targeted Training and Apprenticeship Fund (TTAF) is currently running but will end in December 2022. That means only your 2022 study will be covered. You may be able to get some financial help for your remaining study through the Fees Free scheme if you're eligible (see info below).

Whilst this programme is free for you to study during 2022, the TTAF fund only covers tuition fees and compulsory costs such as student levies. It does not cover any additional costs or living costs.

Full-time learners

You can pay for additional and living costs by yourself if that is possible or by applying for a loan or allowance through Studylink (which is only available for domestic learners).

It is important to apply for your student loan/allowance at the same time as you apply for this programme, due to the length of time Studylink take to process. Loan/allowance applications can be cancelled at any time if you decide to withdraw your programme application or if it is unsuccessful.

For information about student loans and allowances please visit the Studylink website.

Part-time learners

You can pay for additional and living costs yourself if this is possible.

As a part-time learner, you're generally not eligible for student loans and allowances through Studylink but some help may be possible depending on your circumstances (for domestic students). Check the Studylink website for more information.

Fees Free

The Government is also running a funding scheme called Fees Free for domestic learners. This scheme normally pays for your first year of study if you've never been enrolled in tertiary study over 60 credits at Level 3 or higher in New Zealand. They have confirmed that TTAF does not impact on a learner's entitlement to also access the Fees Free scheme.

So, you'll be covered by TTAF for your 2022 study and, if you would have originally been eligible for Fees Free, you'll be able to access that to cover some of your remaining study.

You can check your Fees Free eligibility here >

Fees Free only covers your tuition fees. You would still need to pay for things like accommodation, living costs and placement transport costs. And the same full-time learner/part-time learner information would apply to Studylink financial support as was mentioned above.

If you have any questions about student loans and allowances, please email our Studylink Advisor: Amanda.McAra@op.ac.nz
Apply Now