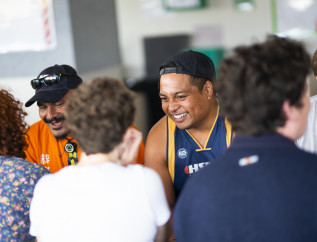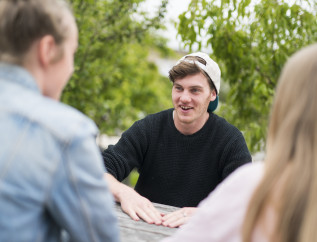 Location

Dunedin Campus

Duration

2 years full-time; 4 years part-time

Delivery

On campus with compulsory work placements
Credits

240

Level

6

Start

February 2022

Apply

Now
Want to empower young people to live life to their full potential?
Youth development is about promoting young peoples' personal and social development and enabling them to have a voice, influence and place in their communities, as well as in society as a whole.
Youth Workers support young people (12-24 years) and their whānau by helping them to develop quality relationships and to build healthy connections. They provide support, information and resources, and help young people connect with specialist services (when necessary) and work to enhance connections in the community by planning, delivering and evaluating programmes and events for young people. Through guidance on education, training and employment, Youth Workers support and nurture positive youth development - often working collaboratively with other human service providers such as counsellors, social workers, psychologists and educators.
This programme will prepare you for a career as a Youth Worker within Aotearoa New Zealand. Chances of getting a job are good due to increasing demand for youth work services. And, with further training, youth workers can move into social work, counselling or teaching roles.
Other career options include:
Rangatahi Development Worker
Youth Advocate
Youth Facilitator
Youth Leader
Youth Pastor/Minister
Youth Support Worker.
Our programme will prepare you to enter the workforce through a series of work placements. During one of these, you'll lead and evaluate a youth development project. You'll also build a network of contacts for when you graduate!
You'll leave this programme with the latest skills and knowledge about the youth development sector – understanding all about practices and resources that are useful for working with young people, youth culture and their communities, physical and mental health issues among youth, and laws and policies that affect young people.
So, apply now and start making a difference in someone's life.
Entry requirements

NCEA Level 3, New Zealand Certificate in Study and Career Preparation (Level 3) or equivalent qualification/work experience.
You'll need to have an interview so we can make sure this programme is the right fit for you.
You'll also need to complete health screening, a safety check* and submit referee reports.
If English is not your first language, you must provide:

If you need to improve your English Language skills, we offer a wide range of English programmes.

*The Children's Act (2014) requires all students, who may work with children during their study, to be safety checked. Safety checking includes reference checking, work history, identity check, police vetting and an overall assessment of the applicant's safety to work with children.

Selection process

If the number of people who apply is bigger than the number of places we have available, applicants will be chosen in the order that they applied.
Don't meet the entry requirements?
Covid-19 vaccination information

If you want to apply for this programme, we'll need to see evidence of your Covid-19 vaccinations (including types and dates). You need to have had three doses. We're legally obliged to collect this additional information from you as this programme is covered by the Covid-19 Public Health Response (Vaccination) Order 2021.

Please just complete our online application process as normal. As part of the application process, you'll be asked to provide your vaccination record.

The Government have advised that the only proof of vaccination that we can accept is a vaccination record PDF from your My Covid Record.
Completing your application

To begin your application, click the Apply button at the top of this page. You can upload documents directly into our application form.

You will need to include:

Your academic records or proof of other relevant, equivalent experience.
Current CV so we can see your work history.
Referee report – this needs to be completed by someone who is willing to be your referee. Referees need to be over 16 and cannot be related to you, be a partner/spouse/friend or live at the same address as you. We will ask for your referee's contact details within the application form and then contact them on your behalf.
Permission for Police Vetting to ensure you meet the requirements of the Children's Act 2014. You'll need to tick a box within the application form to show us that you are happy for us to do this.
Certified copies of proof of identity.
Proof of residency (where appropriate).
You will study

Our programme provides the training and education you need to ensure you meet the established industry competency standards for youth work.

You'll learn how to:

Integrate youth development theories and models of practice in order to respond to the needs and aspirations of young people from diverse cultures and contexts.
Apply safe, ethical and professional youth work practices to ensure the safety and wellbeing of young people engaging in youth development activities.
Provide young people with responsive and positive support informed by knowledge of the historical, socio-cultural, economic and political factors impacting them.
Select and apply a range of evidence-based practices informed by Te Tiriti o Waitangi and te ao Māori to support the aspirations of young people and build community connections.
Demonstrate leadership in a youth work and youth development context by leading and developing a youth development project.
Reflect on and evaluate your own youth work practice in a supervision context and engage in self-care to achieve continuous improvement in your own practice.

This programme has a great mix of learning activities. These include:

Classroom activities – lectures, tutorials, presentations
Information gathering
Online learning activities
Workplace learning through work placement
Guest speakers
Field trips
Project work

Courses

This programme has a total of 240 credits which are broken down into:

120 credits at Level 5
105 credits at Level 6
15 credits at Level 7

The Level 5 courses provide a strong foundation of knowledge, values and skills for effective youth work practice. At Level 6, your focus will shift towards the theory that you're learning being integrated with practice. You'll also start to focus on the development of your own practice so you can make positive contributions to youth development. The Level 7 course, Managing Crisis, is included as it's a critical component of youth work practice.

Level 5 courses

Understanding Youth Development
Matua Mōhio ki te Ao Taiohi

This course builds the foundation of youth development practice. It's where you'll first learn and engage with theories and cultural perspectives of human development. You'll then use this knowledge to evaluate the key principles of positive youth development.

Understanding Youth Culture and Identity
He Aronga ki te Ao Taiohi

Learn about the whakapapa (history) of youth development practice and its relationship to an ever-changing youth culture. You'll have the chance to creatively reflect on your own identity and cultural development.

Building Intentional Relationships
Te Hononga

Be introduced to the importance of building quality relationships with young people. Develop your understanding of the difference between professional youth work and friendship, and learn about different strategies you can apply when working with young people e.g. coaching, mentoring.

Promoting Family, Whānau and Community Cohesion
He Haere Kōtui

Learn about the importance of social environments and connectedness in the development of young people.

Assessing and Managing Risk
Ngā Ᾱhuatanga o te Whakatonutanga

Explore the impact of risk-taking behaviour and how this contributes positively and negatively to a person's development. Learn how to describe the types and sources of risk for young people, identify triggers for high-risk behaviours, and understand how a youth development worker's responsibilities and possible actions are limited by legal and ethical requirements.

Entering Professional Practice
He Aronga ki te Ao Ngaio

Learn how to describe the formation of your own identity and discuss how this has influenced the development of your practice. Be introduced to governing ethics, protocols, and laws, and the part these play in youth development. You'll also discover how to manage your workload and own self-care to minimise personal risk in youth development work.

Introduction to Evidence-based Practice
He Aronga ki te Ao Rangahau

Build your foundational research literacy skills (including academic writing and presentation skills).

Honouring Te Tiriti o Waitangi
Te Mana o te Tiriti

Actively engage with and personalise the impacts of Te Tiriti o Waitangi on your life and your cultural identity. This then provides a base for you to explore what it culturally appropriate youth development practice within the context of the Treaty partnership. It involves 16 hours of noho marae experience.

Level 6 courses

Working with Groups Mahi Ngātahi

Learn about different models and methods of group work in youth development. Discover how to facilitate groups to support young people's development and use feedback, experience and professional supervision to reflect on your own practice.

Supporting Youth Participation
He Tautāwhi i te Whai Wāhitanga o te Taiohi

Learn why young people have a right to have their voice heard in decisions that affect them and the obligations of professionals to hear them. Gain an understanding of how youth participation underpins positive youth development. Support a youth initiative during work experience and use the feedback from young people to reflect on your practice.

Specialist Practice
He Aro Mātanga

Integrate a specialist area of practice into your own youth work practice. Specialist areas are: welfare/justice, community (includes cultural and faith-based settings), health or education. This experience and the research/writing you'll need to do, will help you to start drafting your own model of practice.

Developing Professional Practice
Whakawhanake Ngaiotanga

Develop a concept of your professional identity and your ability to work within the professional codes, conventions, legal requirements, professional values and ethics of practice. This will build on your intentional and group facilitation skills and will demonstrate your ability to identify, analyse and question workplace ethics.

Design, Deliver and Evaluate Initiatives Whakarite Rautaki mō te Taiohi

This course focuses on the importance of community engagement and building treaty-based partnerships through the delivery of positive youth development initiatives. Using feedback from young people, community members and your supervisor, you'll assess the design and delivery of initiatives and consider how the initiative could be improved in the future.

Enhancing Youth Resilience
Kia Manawaroa te Taiohi

Explore a holistic approach to understanding youth resilience. You'll learn about the key internal and external factors that facilitate youth resilience and take these understandings to develop a plan for young people.

Level 7 course

Managing Crisis
Tikanga Whakahaere Wā Mōrearea

Learn about the impact of stress and crisis on young people. Using case studies and simulations, you'll practice the skills you need to respond to young people and communities in crisis, and to support the uptake of positive coping strategies.
Work placement information

During this programme, real and simulated workplace practice is used to ensure that you feel confident and prepared to be an effective youth worker. These are a fantastic opportunity to gain hands-on experience of what youth work is really like and to start building some contacts for when you graduate.

You'll undertake work placements with at least two different agencies (or two significantly different areas within the same agency).

At Level 5, you'll do at least 75 hours of work placements (during the Entering Professional Practice course).
At Level 6, you'll do at least 130 hours of work placement (and this is spread across three courses – Design, Deliver and Evaluate Initiatives (50); Supporting Youth Participation (40); and Developing Professional Practice (40)).

You'll also need to engage in a professional supervision relationship with a qualified professional supervisor for (a minimum of) 13 hours across the programme.

Otago Polytechnic Youth Work staff will coordinate your work placements, professional conversations in the workplace and the practical assessment of work-based tasks.
Your workload

You'll be expected to spend about 16 hours a week in directed study (i.e. study directed by your teacher – classroom activities, group discussions etc). You'll then also be expected to spend about the same amount of hours per week in self-directed study (i.e. study that you manage within your own time – research, assignments etc.).

During the work placements, you'll also have to spend some time each week off-campus taking part in these at whichever agency you are placed with.
Further study options
Student loans and allowances

Student loans and allowances are for

domestic students who have lived in New Zealand for three years

. For information about student loans and allowances please visit the

Studylink website

. It is important to apply for your student loan/allowance

at the same time

as you apply for this programme, due to the length of time Studylink take to process. Loan/allowance applications can be cancelled at any time if you decide to withdraw your programme application or if it is unsuccessful.
Apply Now