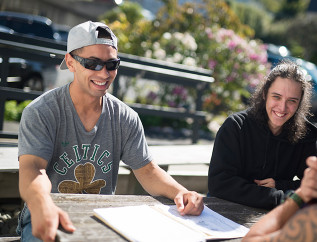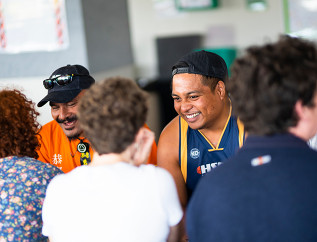 Location

Kokiri Centre (51 Macandrew Road, Dunedin)

Duration

Twenty weeks full-time (five days a week); part-time not available

Delivery

Face-to-face teaching at Kokiri Centre

This programme is delivered through the Te Uru Kokiri Centre due to a sub-contract arrangement between Otago Polytechnic and the provider
Credits

60

Level

3

Start

February and July

Apply

Email admin@kokiricentre.co.nz
Location

Intake

Study breaks

Distance

15 February 2021

26 April 2021 - 30 April 2021

Arai Te Uru Kokiri Centre and Otago Polytechnic have developed this programme to train whanau and support workers to understand how to support each other and to uplift, listen to and help each other be successful.
This programme is for those who wish to work with Māori and whānau in the development of a whānau-centred approach that supports whānau wellbeing.
Graduates of this qualification will be able to work under supervision to apply knowledge of Māori philosophies and theories of Māori wellbeing. This qualification will prepare you for entry level work caring for or supporting people, from youth to adulthood.
Skills you will gain

Build quality relationships to form a coordinated approach in the delivery of services to tangata Māori as an expression of whanaungatanga.
Apply a range of standard processes and systems to assist Māori and whānau to make well-informed decisions as an expression of kaitiakitanga and manaakitanga.
Apply some operational and theoretical knowledge to design a whānau ora plan as an expression of pukengatanga.
Reflect on practice and performance to develop own professional and personal attributes as an expression of rangatiratanga.
More about the Kokiri Centre

Located in Dunedin, New Zealand Kokiri offers practical/vocational courses that equip foundation learners with the opportunity to learn employable skills in preparation for higher education or as a gateway into the workforce.
Entry requirements

Open entry.
International students are not able to study this programme.
COVID-19 vaccination information

If you want to apply for this programme, we'll need to see evidence of your Covid-19 vaccinations (including types and dates). You need to have had three doses. We're legally obliged to collect this additional information from you as this programme is covered by the Covid-19 Public Health Response (Vaccination) Order 2021.

Please just complete our online application process as normal. As part of the application process, you'll be asked to provide your vaccination record.

The Government have advised that the only proof of vaccination that we can accept is a vaccination record PDF from your My Covid Record.
You will study

Implications of legislation on hauora Māori
How to manage personal safety when working with whānau
Tikanga in relation to rongoā rākau
Key dimensions of hauora
How to prepare a nutritionally-balanced diet using kai tōtika Māori
Tikanga associated with hauora in the home
Processes of accountability within hauora
Knowledge of rongoā Māori in relation to the prevention and treatment of illness
Explain anger management in a hauora context
Explain tikanga in relation to the human anatomy

Delivery

Delivery is a combination of classroom learning and hands-on learning.

Facilitators use korero, presentations, visuals, study notes, reliable information from websites and other texts to support an interactive approach that delivers knowledge and supports the introduction and practice of skills and tikanga.

Practical skills are introduced by facilitator demonstration, group activities, and practical tasks, and opportunity is provided to undertake real-world activities.

Self-directed work involves investigation and completion of individual assignments for assessment.
Additional costs

Stationery will be provided.
Student loans and allowances with TTAF

Whilst this programme is free for you to study via the Trades and Apprenticeship Fund (TTAF), this fund only covers tuition fees and compulsory costs such as student levies. It does not cover any additional costs or living costs. You can pay for additional and living costs by yourself if that is possible for you or by applying for a loan or allowance through Studylink.

It is important to apply for your student loan/allowance at the same time as you apply for this programme, due to the length of time Studylink take to process. Loan/allowance applications can be cancelled at any time if you decide to withdraw your programme application or if it is unsuccessful.

For information about student loans and allowances please visit the Studylink website