Haere mai! Welcome to the information page for the
New Zealand Certificate in Animal Healthcare Assisting (Level 4) - Rural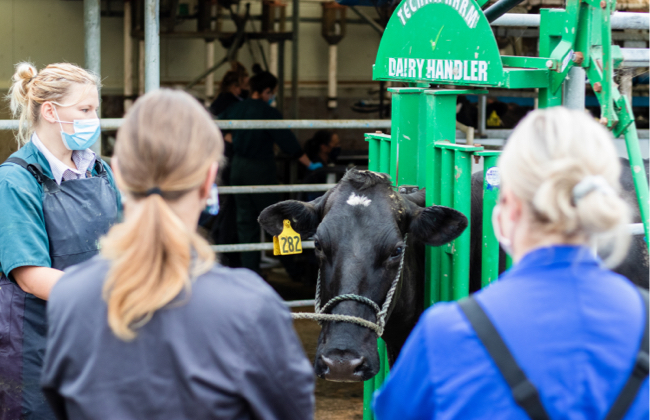 To retain your enrolment, you need to do the following before the start date of the programme: 
1. Check List
Click on this link and print this document so you can tick off and keep a track of each step during your enrolment process so you do not miss anything. 
2. Pre-observation Health and Safety Course
Animal facilities have specifically requested that any applicants from Otago Polytechnic seeking work placement understand health and safety requirements and potential hazards they may be exposed to. This course was specifically developed to provide you with this awareness. You must take the Confirmation of Participation (COP) to all prospective work placements you visit, so they are aware you have been given some basic information about the work environment, as well as potential hazards.  
This free course will take approximately 20 minutes. Once you have completed it you can print off the Confirmation of Participation (COP) to take to all work placements you approach. 
To access and complete the course, you need to: 
Create a

 

Moodle account

 

and sign in.

 

Click

 

here

 

for instructions on how to do this. 

Access and complete the course

 

Health and Safety Pre-Observation for Guests in a Veterinary Clinic

(this is still applicable to grooming facilities) 

Print your

 

Confirmation of Participation (COP)

. 
3. Criminal Convictions History
It is recommended that you take Criminal Convictions History Report and Basic Health and Safety Course COP with you to any prospective work placement.  
4. Animal Healthcare Assistant Work Placement Documents
During the course you are required to complete 240 hours of work placement. Your placement will take place on farms and in a mixed or rural animal veterinary clinic. The minimum number of hours is generally collected organically as you work towards completing a number of practical skills. 
Print off and read each of the following Work Placement documents. 
Take these to all prospective work placement facilities you visit with a copy of your Criminal Convictions History Report and Basic Health and Safety Course COP. 
Click here for the Letter of Introduction (to introduce you to the facility as a perspective Otago Polytechnic student seeking a work placement) 
Click here for the Key Information (this provides the facility with more information about the programme and work placement)  
Click here for the Emergency Contact Details Form (fill this in and give to the farm and clinic placements when you have sourced a work placement) 
Click here to enter the details of your Occupational Health and Safety for Students in the Workplace. 
5. For Your information:
Click here to review Tips on finding your Work Placement 
You are more likely to get a better response by asking for an appointment to discuss this, than if you just call in to the veterinary clinic. It also shows that you are demonstrating high levels of professionalism and also recognise that veterinary clinics are very busy places. Make sure when you attend the appointment that you take copies of all the documents above, and be prepared to talk about yourself and why you are doing the Rural Animal Healthcare Assisting programme. If you do not hear from the veterinary clinic within a week, we suggest that you telephone the veterinary clinic and ask to speak to the practice manager or the senior large animal vet technician to arrange an appointment to discuss whether the veterinary clinic would be prepared to support you as a student requiring work placement.  
It is very important that all communications with the veterinary clinic are made by you, not your parent or spouse.  
Do not be disheartened if the veterinary clinic advise they do not take students – this can happen, so be prepared to approach another clinic.  
Remember to take with you to your appointment at the veterinary clinic:  
Your brief Curriculum Vitae (CV), including at least one referee that can vouch for you 

Your current Criminal Convictions History Report 

The Veterinary Clinic Work Placement documents 

A smile 

😊

 and possibly a bit of morning tea.
Click here to review What to expect on your first day at your work placement 
6. Record your Placement information:
Always remember:  You are a guest in the veterinary clinic, and it is a privilege not a right.  
Be aware should there be aspects of your work placement being unbeneficial to the veterinary clinic they can terminate their agreement to support your work placement at any time.  Once your work placement day/s and hours have been established it always pays to be prepared to do a little more than just the set hours. In your work placement veterinary clinic be prepared to provide some leniency when it comes to your hours particularly if there is a high workload or if there is an emergency or work just needs doing, it will really be appreciated if you stay on to assist even if it is hanging out the washing, cleaning out cages (yes, even though you're not studying companion animal nursing!). This shows that you are passionate, interested and also prepared to pitch in – all qualities that a future employer of all allied veterinary professionals will be looking for. By staying on to help also shows you recognise the commitment the veterinary clinic has provided in supporting you and that work placement is give and take.    
Enjoy your work placement 😊 
If you need support finding a suitable placement, please contact the School of Veterinary Nursing by emailing  Katie.Prasad@op.ac.nz - Katie is our work placement co-ordinator. 
 7.
Enrolment Supporting Information:
These must be completed on a computer as the format is not compatible with your cell phone: 
Click here to access and fill in the Student Privacy Declaration form. 
Click here to access and fill in the Student Code of Conduct form 
Further information
Below is some further information that we would recommend you taking the time to read and familiarise yourself with before the start of the programme.  
1. Learning Advisors
 A Learning Advisor is your primary academic support person through your study. You will be assigned a learning advisor and they will contact you and provide you with all their details prior to the start of your programme.  
In the meantime if you have any questions or wish to talk about anything relating to the programme do not hesitate to contact us on (free phone) 0800 762 786 or email vetnursing@op.ac.nz and your enquiry will be directed to a learning advisor. 
2. Block Course Dates
You have one compulsory block course to attend this year at Otago Polytechnic (Dunedin) .
Block courses for 2024 are yet to be confirmed.
3. Copy of Work Placement Contract and Otago Polytechnic Code of Privacy/Confidentiality
Click here 
Uniforms, equipment, and textbooks 
Students enrolled in New Zealand Certificate of Animal Healthcare Assisting (rural strand) must wear Te Pūkenga / Otago Polytechnic branded uniform on all placements and at block courses.  This has been requested from veterinary clinics so clients are aware you are training and not a staff member. 
You must have:
Te Pūkenga or Otago Polytechnic branded poloshirt
Te Pūkenga or Otago Polytechnic branded overalls
Te Pūkenga or Otago Polytechnic branded name badge
Unbranded, dairy waterproof bib overalls or overpants
Waterproof gumboots, ideally steel capped, with excellent tread
You will also need appropriate clothing for placement and block course. Appropriate means suitable for different weather and climates, as much of your work is outdoors. Clothing needs to be in good order, not ripped for example. You are studying for a professional career so your appearance should reflect that. Jeans in good order are fine. Clothing should not be so tight or short as to be restrictive or to cause offence. Jewellery should be minimal.
There is a second-hand Facebook group for Te Pūkenga.  Here you might find second-hand textbooks but as this is a new programme, you won't find second-hand Te Pūkenga branded items just yet, because these are new for 2023/24.  You will find second-hand Otago Polytechnic branded uniform items though, and these are acceptable for your programme of study 😊 
Te Pūkenga uniform items can all be purchased from our uniform supplier, Arrow Uniforms. BEFORE YOU CLICK ON THIS LINK though, make sure you read the rest of this info! 😊
When ordering from Arrow Uniforms it is super important that you click the right block course venue and order before your cut off date, to make sure that your uniform arrives in time for block course.
*If you are already working in a veterinary clinic and have clinic-branded overalls, or if you are on a dairy farm and have overalls in great condition, you can opt to purchase a Te Pūkenga branded sew-on badge rather than new overalls, (our industry has requested that our students are identifiable). You will need to stitch the badge to your top pocket of your overalls and will still need the other compulsory uniform and items listed on this page.
Textbooks
There are no compulsory textbooks for this programme.  We have a number of textbooks that are recommended reading (and we're always willing to share our favourites if you have a topic you're interested in!) but you can borrow these from The Robertson Library as an enrolled student, for free.  The library will even courier hard copies to you.  Many textbooks are available as e-books too.