No regrets
Inspired by Charity House project, Marcus Devereux is making plans.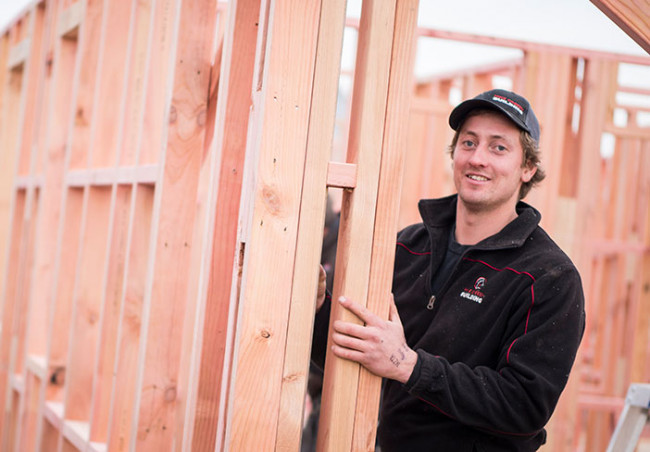 You get to meet real good guys keen on the same things and get valuable work experience.
Marcus Devereux, grew up in Tapanui, and decided to study the Certificate in Carpentry (Level 4) because of the vast career opportunities it offered. He chose Otago Polytechnic after being inspired by the charity house Otago Polytechnic students build every year. It's a choice he's never regretted:
"There are a lot of apprentice employment options in Otago, and during the programme you get lots of industry placements. If you prove yourself as eager and willing to learn there's a good chance the employer will give you a job," says Marcus.
And that's precisely what happened to Marcus. After doing a placement for a builder in Dunedin he was offered a job. The highlight of his apprenticeship so far was helping build a high-end 400m2 new home.
Currently, Marcus works for Mike Creedy Building working on new houses and renovations. He also won Otago Southland Apprentice of the Year for Industry Training Association Building (ITABS) in 2015, and placed third at the nationals. Marcus is humble about his achievements, but credits Otago Polytechnic with providing him with the foundation he needed to achieve his success.
"The great thing about Otago Polytechnic is its 50/50 theory and practical. You learn about it in the classroom and then you go about doing it in the Polytech carpentry area, then out there doing it in the real world. I didn't know anything four years ago, but now I get to play a leading role on building projects. That's pretty cool.
"In the future I'd like to be a foreman, and eventually I'd like to run my own business.''
→
New Zealand Certificate in Carpentry (Level 4)
Want to become a carpenter, site supervisor, building project manager, construction firm owner or self-employed builder? Learn from professionals and gain sought after skills with a carpentry apprenticeship pathway brought to you by Otago Polytechnic and Industry Training Association Building (ITAB). Plus, study in 2022 for this programme is free for domestic students due to the Government's Targeted Training and Apprenticeship Fund (TTAF) (although you'll need to pay for any additional course-related and living costs).