Regulations and robots
Vincent Rijlaarsdam is gaining international recognition for creating sought-after technologies during his studies.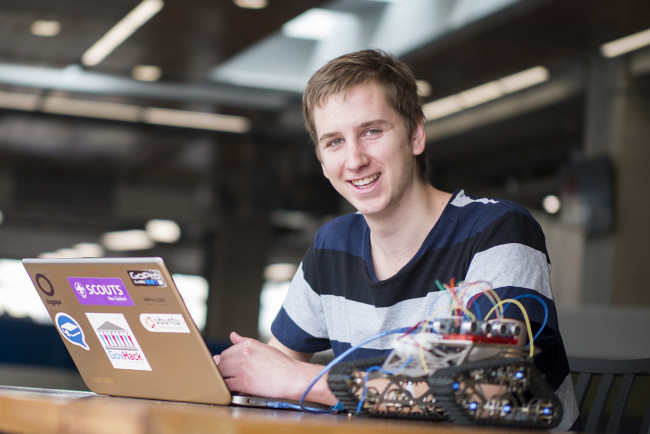 I feel very supported because the lecturers are totally focused on us achieving – there's an open door policy so I always feel comfortable approaching them.
Vincent Rijlaarsdam is a rising star in the IT world. The 20-year old Dunedinite is in his third year of the Bachelor of Information Technology degree at Otago Polytechnic, and already he has been involved with some ambitious projects.
Along with two colleagues, Vincent recently won the Spirit of GovHack award, for developing a website prototype which aims to make legislative data easier for the public to access. He shares in a $2000 cash prize, and is soon to depart for Sydney for an awards ceremony. "We're super excited about showcasing the platform to the Australian teams – already there's been interest from several groups around New Zealand," says Vincent.
Vincent is also making 'survey robots' for his third year project: a concept initially developed by the Massachusetts Institute of Technology (MIT) in the United States. The robots, once completed will be named Poli and Tek, a parent and child with anime-inspired designs who will interact and engage with students by driving around campus asking people questions with a camera recording conversations.
"The robots will become a powerful organisational research tool, and will also push the boundaries and see how comfortable people are talking to robots as opposed to a person," says Vincent.
With graduation only a few months away, Vincent is already thinking about his future plans: "I'm hoping to work in Dunedin or Auckland for a bit, before working in Europe and traveling around the world from there!"
→
Bachelor of Information Technology
Develop high-level technical and problem-solving skills and a solid theoretical understanding of Information Technology concepts in this hands-on degree. If you have existing skills and knowledge due to practical experience in this area, you could study this programme via distance through Capable NZ (our recognition of prior learning centre). You may have already gained credits towards this qualification.