All hail Holly
Elite Paralympian Holly Robinson has gained a qualification to support a long-lasting career in sport, exercise and health.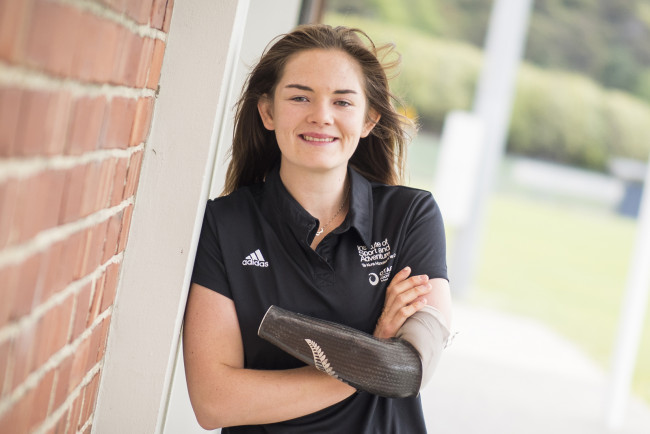 That's the area I want to work in, where people actually want to work hard to get to where they want to go.
Holly Robinson was born with her left arm missing below the elbow but has always been "sporty". Her earliest memory is playing rugby with her twin brother in Hokitika when she was three years old. At the age of 12, she "decided to start getting serious about something" and focused on javelin throwing. At the age of 16 Holly was offered a scholarship to train with a Paralympic coach in Dunedin and in 2012 Holly represented New Zealand at the London Paralympics.
2012 was also Holly's last year of school. "I had no clue what I wanted to do, so I looked at the Bachelor of Applied Science (Physical Activity, Health and Wellness) degree at Otago Polytechnic. It was a practical and applied qualification, and I liked that. It's sort of the way I learn."
Holly continued her international sporting career at the same time as her studies, winning a silver medal at the World IPC champs (Para Track and Field Champs) in Lyon in 2013 and recently in Doha winning bronze, throwing a personal best of 38.18m and breaking the NZ record in the process.
"The lecturers here have been really flexible in terms of assignments with me being away quite a bit. I always want to do my best and I get quite stressed when I don't have a plan, but they set out a time-line of when everything worked best for me. I couldn't rate them more highly."
Holly came back from competing in Doha to find she had been named Bachelor of Applied Science Ambassador for her work with BASES in South Dunedin (community development programme) and her group had won the top research award at Otago Polytechnic.
I did a placement at BASES, working with unemployed youth and youth at risk, trying to get them more physically active. It was real cool seeing all the benefits they got out of the sessions I led. That's the area I want to work in, where people actually want to work hard to get to where they want to go.
In the meantime, Holly's sports career has gone from strength to strength. She won a silver medal at the 2016 Paralympics in Rio de Janeiro and another silver at the 2018 Commonwealth Games on the Gold Coast, Australia.