Change of tack
Jamie Robinson ponders past and future paths.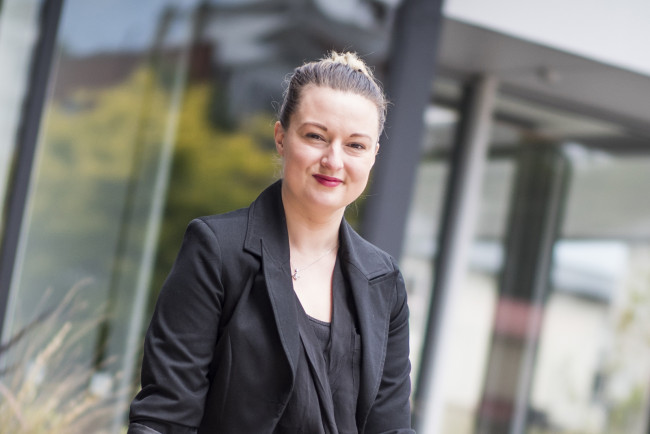 Before Otago Polytechnic all that worried me was being in a job and earning a living, but now it's very important for me to work for a business that I can be proud of.
Jamie Robinson's plan was to finish high school, work for a few years and study physiotherapy, but during her time working in the retail sector she realised management was what she really wanted to do and stayed.
"I worked full-time for seven years, but when I turned 24 I felt there was something lacking in my life. I'd watched a lot of my friends graduating and I thought I hadn't really done a lot. I wanted to do something that was for me, that I had achieved by myself. I wanted to have a combination of work experience and a qualification, and I wanted direction in my life."
Jamie enrolled in Otago Polytechnic's Bachelor of Applied Management, majoring in Human Resources and Strategic Management.
"I really liked the idea of the hands-on approach to the qualification and in a class room environment. It was really practical, the placements gave me real world work experience, the teachers knew who you were, and we were on a first name basis with them."
Studying a range of topics within the management degree has given Jamie a new perspective on life.
"The programme gave me the opportunity to think about life and myself in a different way. I got to know a different side of business, such as sustainability and why it is so important. I didn't even know what sustainability was three years ago. Plus I also got to meet lots of new people from different cultures who I would never have met otherwise, spend time with them and get to know them."
Jamie is now working as a manager for a New Zealand retail store.
"After studying at Otago Polytechnic I know what's really important for me. It's allowed me to set goals and pathways, to know my direction is in management, using sustainable practices, caring about employees, and not just being there to make money. I have a better approach to life now, and when I come home I feel really good about what I'm doing."
→
Bachelor of Applied Management
Gain a business degree based in real-world knowledge. As organisations are constantly changing, real-life learning is more relevant than ever. This programme has industry experiences at its centre with case studies and workplace-based or focused assignments. The practical learning doesn't stop there as you'll also complete an internship during your third year. This internship will place you within a real-world business where you'll need to complete a research project as part of your time with the organisation. A shorter work-based learning option is available for those with prior knowledge, skills and experience!