Charting a bright future
A career in health care is a dream come true for Grace Cham Ai Ling.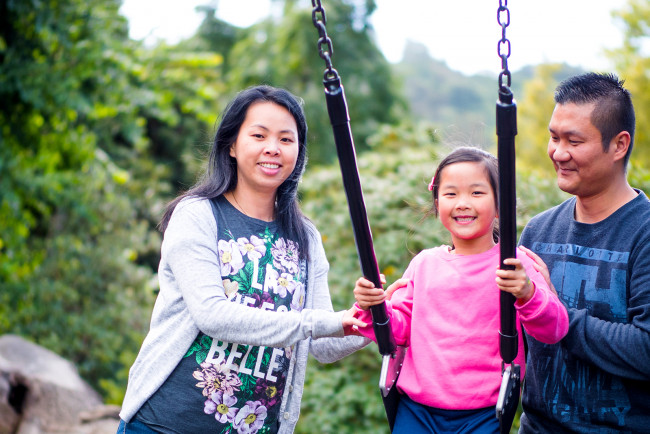 I chose to study at Otago Polytechnic because it's famous for its education.
Grace Cham Ai Ling, her husband Yin Suoh Lim and daughter Zoe came to New Zealand from Kuala Lumpur in Malaysia three years ago for a family wedding, but following a month's holiday around the South island, Grace and Yin decided New Zealand offered a better environment to study and a safer environment for their daughter.
"It's so safe here. There's a lot of crime in a big city like Kuala Lumpur, whenever we went shopping we had to hold Zoe's hand because of fears of kidnapping, and we seldom took her to the park as there were dengue disease-carrying mosquitoes."
Grace and Yin also wanted Zoe to have an internationally recognised education.
"We like the education here in New Zealand, it makes the children think outside the square. Back in Malaysia there was a lot of memorising, and it was very stressful for Zoe as she had so much homework even in pre-school, including spelling and dictation in three languages."
Grace had always wanted to be a nurse but time and cost were stumbling blocks so she worked as a pharmaceutical representative in Kuala Lumpur instead. Applying to study for a career in health care was Grace's dream come true and her entry into New Zealand.
"I chose to study at Otago Polytechnic because it's famous for its education. When I found out I was accepted for the programme, it was a new journey and a new life for the whole family. We know the three of us are going to have a better future here."
→
New Zealand Diploma in Enrolled Nursing (Level 5)
Enrolled Nurses deliver nursing care and health education across a range of health care settings under the direction of a Registered Nurse. Prepare to apply for registration with the Nursing Council of New Zealand (NCNZ) as an Enrolled Nurse through this diploma. Time spent in our clinical practice facility and on clinical placement will give you vital hands-on experience and allow you to put your theory into practice.