Rural robotics
Postgraduate Design student Kuang Ma is developing revolutionary robotic technology for the agricultural sector.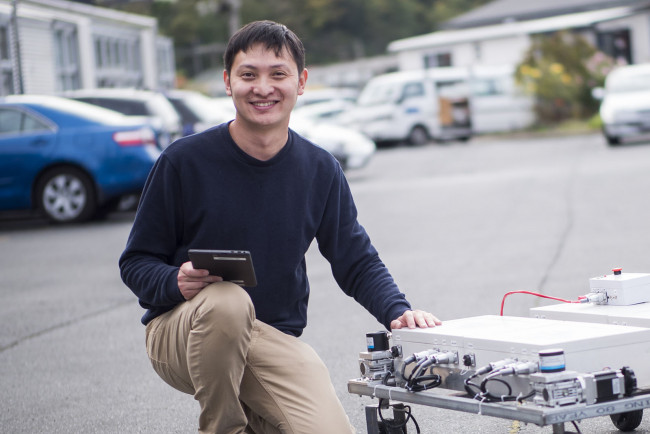 The Master of Design Enterprise taught me how to think like Steve Jobs.
Chinese-born Kuang Ma describes himself as always being a very 'hands on' person. From the age of six he was using a soldering iron to make radios and model aeroplanes. Kuang's parents wanted him to study IT, but he chose to make his childhood hobby his career and studied Mechatronic Engineering instead.
"Mechatronics was my passion, I just love to have something where you can control the movement rather than just programming a computer."
Kuang graduated from Singapore with a Diploma in Mechatronics and set up several companies where he worked on developing automation, robotic and drone products.
After deciding he wanted to teach, Kuang started an undergraduate degree in Singapore and completed a Master of Science in Manufacturing System Engineering in Hong Kong before moving back to lecture at the Hubei Three Gorges Polytechnic to be near his sick grandparents. It was the birth of his son that prompted him move to New Zealand.
"I wanted to have a better environment for my son and New Zealand is heaven for kids."
Kuang was interested in working on the Otago Polytechnic electric vehicle project until he was introduced to the Master of Design Enterprise.
My companies developed engineering products which had very advanced technology and were very cost effective but the customers often weren't happy. After I started the Masters programme I knew why, it was because the designs weren't human-centred.
Kuang found the programme challenging.
"In the beginning I was really struggling because that way of thinking was totally different for me. I had to transform myself from being an engineer to being a designer and understanding what the user wanted and needed. I had to think like Steve Jobs."
For his Masters, Kuang designed a universal robot chassis for agriculture.
"I visited farms, interviewed farmers and found out where there was a gap to fit this technology. The Masters programme taught me to think totally differently, I'd recommend it to anyone, especially engineers who want to 're-engineer' themselves into being a designer and making the world different."
Kuang is now working full-time as Electronics Engineer at Kamahi Electronics in Dunedin.