The people made us feel really comfortable and the programme itself suited our learning styles and personality.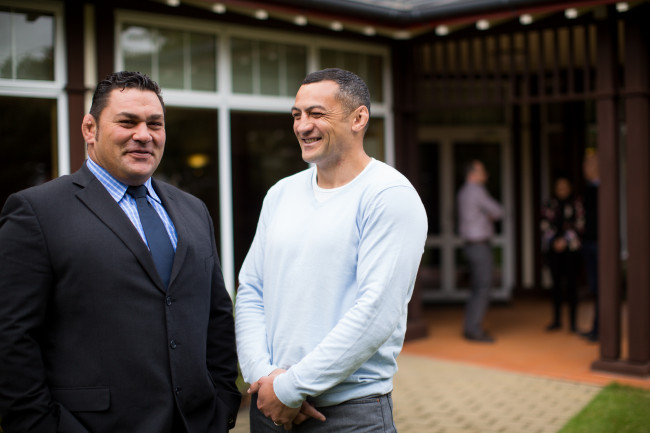 Neil Brew - Ngati Whare & Tuhoe, Kees Meeuws - Ngati Maru
Former Highlanders team mates and international rugby stars Kees Meeuws and Neil Brew were nearing the end of their rugby careers, and wanted to gain a qualification for life after rugby.
"I wanted to prove to myself that I could do it," says Kees, "And I also wanted to show my kids that it's never too late to go back and learn."
Both Neil and Kees decided to undertake the Bachelor of Applied Management through Capable NZ and graduated at the end of 2015.
"It was great that the assessment structure at Capable NZ helped recognise a lot of my existing skills gained through my rugby career," says Neil. "It validated my skills in contracts, managing people and goal-setting."
The flexible study option provided by Capable NZ, also allowed Neil to hold down a job and study at home at night, while achieving a three-year degree in as little as seven months. Instead of having to sacrifice something important – be it family time, work or rugby – he was able to balance competing priorities.
Kees, on the other hand, found his study through Capable NZ helped join his multiple interests together into a tangible career. Prior to starting the Bachelor of Applied Management, Kees had just finished getting qualified as a builder but couldn't see himself doing that job forever. Instead he wanted to move into a supervisory or management role.
"The Bachelor of Applied Management gave me something that said I had the skills to manage, myself, others and a business," says Kees. "It gave me credibility outside of the rugby arena."
Kees simultaneously obtained his Real Estate Agent qualification and is now in his third year working at Metro Realty. He hopes to combine these skills with both his management degree and building qualification by eventually moving into property development or project management.
Since graduating, Neil, too, is discovering new future aspirations. "I would really like to gain a postgraduate teaching qualification," says Neil.
Both say the holistic approach of the Bachelor of Applied Management helped them succeed. "The structure, process and facilitators were all fantastic," says Kees. "I don't think I would be as productive as I am today without having done the programme."
"I keep telling all the boys coming out of rugby to come and do this programme," says Kees. "Aside from the career benefits it's a wonderful journey of self-discovery and insight into what makes you tick as a person."
→
Bachelor of Applied Management
Gain a business degree based in real-world knowledge. As organisations are constantly changing, real-life learning is more relevant than ever. This programme has industry experiences at its centre with case studies and workplace-based or focused assignments. The practical learning doesn't stop there as you'll also complete an internship during your third year. This internship will place you within a real-world business where you'll need to complete a research project as part of your time with the organisation. A shorter work-based learning option is available for those with prior knowledge, skills and experience!