Playing to the gallery
A range of career possibilities has opened up for Kipp Richards thanks to a placement at one of New Zealand's leading galleries.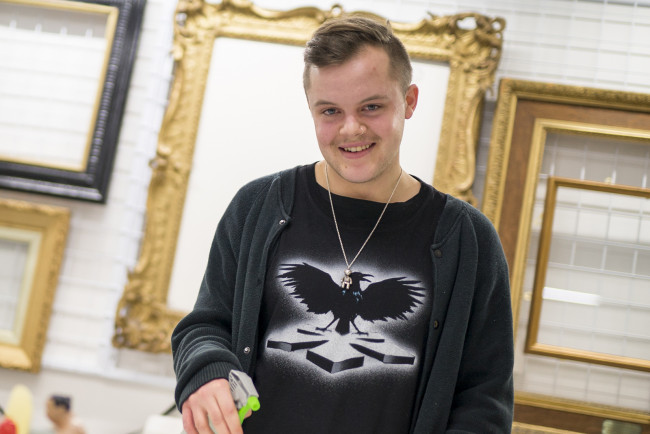 Doing work experience in a place like the Dunedin Public Art Gallery gives you a different perspective on art – and life.
Kipp Richards, a first year Bachelor of Visual Arts student majoring in Print, has been enjoying undertaking a work placement at the Dunedin Public Art Gallery. He spends his work placement days on a variety of tasks designed to give students an overview of how an art gallery operates.
"It's really fun – every day has been different," he says. "The experience is a real insight into how a gallery works and it's been cool to see 'behind the scenes'."
So far, Kipp has spent his time in exhibitions interacting with the public, helping de-install exhibitions, re-archiving works, and setting up new shows. The placement has not just given him new skills but opened up his eyes to new career possibilities.
As an Arts student, my focus has been on one day becoming an artist – but this experience has shown me that there are many other opportunities out there, like working in an art gallery or being a curator or conservationist.
Lynda Cullen, the gallery's Visitor Programmes Co-ordinator is enthusiastic about the collaborative work placement scheme between Otago Polytechnic and Dunedin Public Art Gallery. "This is our fourth year and the benefits have definitely worked both ways," she says. "We try to give students an overview of everything during their time here. It's always been a positive experience – and some of the work placement students have actually ended up doing some work for us."
Kipp has certainly enjoyed his time at the Dunedin Public Art Gallery and highly recommends the experience to other Arts students. "If you get the opportunity, take it," he says. "It's something valuable you can put on your CV!"
→
Bachelor of Visual Arts
Translate your creativity into a career! A qualification in the Visual Arts will allow you to find employment in an exciting and diverse range of professions such as a practising artist, curator, art educator or researcher. A variety of roles within the digital and film industries would also be possible.