Going the distance
Fiona Van Oyen is excited about the next chapter of her career as an exhibiting artist, after successfully completing her Master's degree.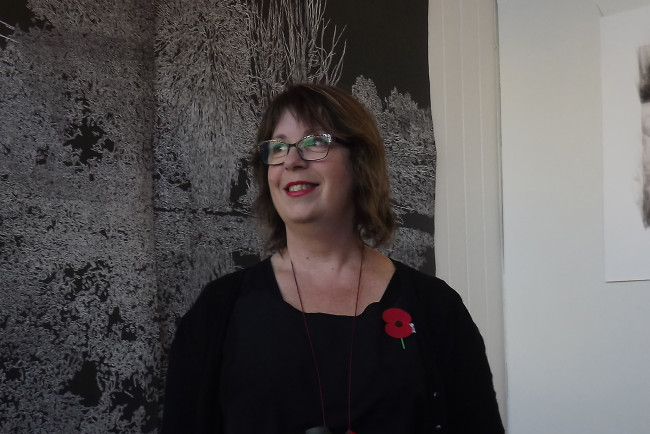 Being a distance learner at OP has been a very affirming experience – I know I can be self-directed and motivated.
Fiona Van Oyen has thoroughly enjoyed her journey as a distance learner at Otago Polytechnic. "The inclusiveness and flexibility in and around my learning have been great," she says. "I've also loved feeling part of a creative community again."
Fiona enrolled in a Master of Fine Arts at the Dunedin School of Art after a significant time lapse between completing her Fine Arts degree at Canterbury back in the early 1980s. Initially, she had wanted to study away from Christchurch and this was reaffirmed when she met two Otago Polytechnic lecturers – Mark Bolland and Peter Cleverley – on a visit to Cashmere High School.
"I listened in to their talk to senior Arts students and realised what a rich range of courses the Dunedin School of Art offers," Fiona explains. "I was also attracted to Otago Polytechnic because it has such a vibrant and inclusive energy."
Even though Fiona has spent eighty percent of her time off-campus, she has established relationships with other students and is able to access weekly seminars online. Flexibility has been vital as while working toward her Masters she also continued to teach Art part-time at Cashmere High School in Christchurch.
"I feel very much a part of the Dunedin School of Art community," she says. "I've been quite demanding of my supervisors, mainly out of a feeling of vulnerability because I was really stretching myself, having been away from my own learning for so long. But they seemed to understand my needs and the ease with which lines of communication have been accessible has made me feel very supported and nurtured."
Fiona believes that studying by distance as a Masters student has been good for her.
At Masters level there is an expectation that you will be pretty independent and self-reliant when it comes to your own practice," she says. "As I near graduation I feel enabled and confident to embark on a national and international career as an exhibiting artist.
Fiona's future has already gained a welcome boost. She has won the inaugural Zonta Ashburton Female Art Award - a Canterbury focused award which seeks to raise the status of female visual artists working in the wider Canterbury area. It acknowledges excellence in emerging and mid-career female artists. As a result, Fiona will hold a solo exhibition at the Ashburton Art Gallery in 2018.