Art of adornment
Susan Videler is forging an enriching career from the artform she adores – jewellery making.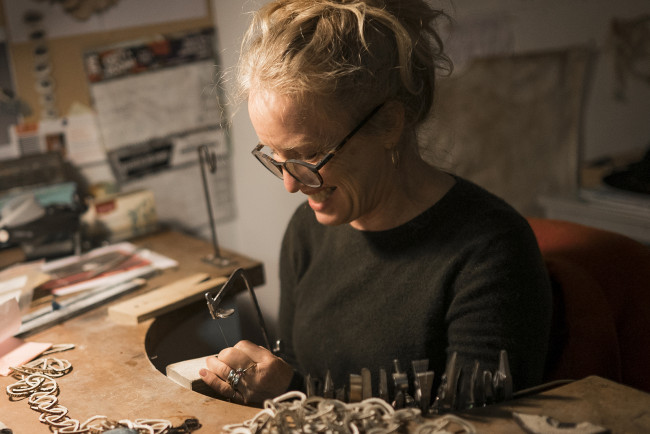 The Dunedin School of Art has fantastic facilities for jewellery making, so I knew I had to come back to study here.
"All jewellery has ancient origins. We still use techniques in making, that were used hundreds of years ago. That's one of the reasons why I enjoy it so much."
Susan Videler majored in painting for her Bachelor of Fine Arts*, but she now concentrates on jewellery.
I'm influenced by the material I work with. Initially working with gemstones and metal, I'm now exploring raw-hide, antler, glass and wood.
It's no surprise then that her master's dissertation is The Wound – protection afforded by the Talisman.
Susan started studying at the Dunedin School of Art in 2008. In the first year, she studied all six disciplines, and then focussed her studies as her degree progressed. "It was great, because I could see where my strengths lay."
She chose painting, and took out the Painting Prize and the Lindsay Crookes Memorial Life Drawing Prize in her graduating year. However, the lure of creating jewellery was strong, so she signed up for her master's degree with Otago Polytechnic.
"The Dunedin School of Art has fantastic facilities for jewellery making, so I knew I wanted to come back to study here. The tutors are highly skilled and they foster a creative, supportive atmosphere. It is a really special department" she says. She even teaches there herself – holding Monday night classes for Introduction to Jewellery.
Susan is yet to market her jewellery – all of her current creations have to be kept for the examiners. But she already has an interested buyer in Auckland, and a studio space organised in Dunedin to start creating and making a living out of the art form she loves.
→
Master of Fine Arts
Practicing artists will especially benefit from this in-depth research project, which has been benchmarked against national and international standards and culminates in a public exhibition and dissertation.
→
Bachelor of Visual Arts
Translate your creativity into a career! A qualification in the Visual Arts will allow you to find employment in an exciting and diverse range of professions such as a practising artist, curator, art educator or researcher. A variety of roles within the digital and film industries would also be possible.