A picture of happiness
An art project on the digestive system spurred Alicia Hall to make transformational changes for her own health and happiness.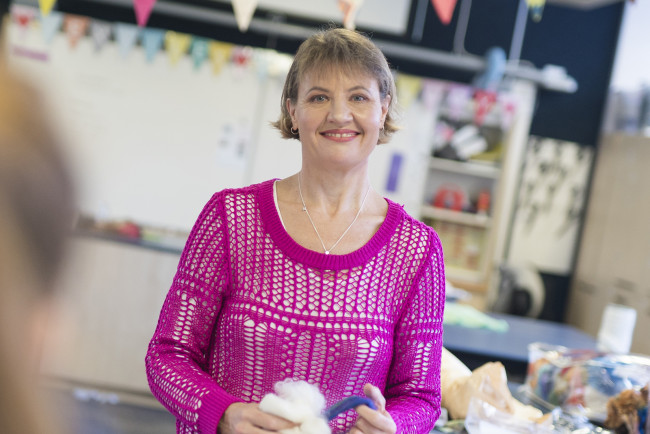 I just grew more and more happy because I started to discover who I was and also my life's purpose.
Alicia Hall's enthusiasm is contagious as she explains her journey at Otago Polytechnic.
"During my time at Dunedin School of Art I went thought a total transformation. I arrived as a size 18, and now I'm only a size 12. I just grew more and more happy because I started to discover who I was and also my life's purpose."
The 51 year-old used to be a bookkeeper and an administrator. She's always been a 'maker', but didn't think she had the skills needed for Art School.
"I was surprised I got in on the strength of my textile art. I thought I'd have to be able to draw well – but that wasn't the case. Now I've come so far, and I have Art School and Jenny Rudd at Social Services to thank for that".
Alicia's full of praise for her lecturers.
The support and guidance you receive is incredible. If you're willing to work, they'll help you every step of the way. They see your potential, and they push you to achieve it.
In her second year, through her individualised project on the digestive system, Alicia decided to change her life style. This, and experiencing the transformative power of making, lead to her interest in women's health and well-being.
"What happened to me at Art School is pretty amazing. I want to share that with other women."
For her Master of Visual Art Degree, Alicia has researched the health benefits that occur while making and creating within a community. Her work was acknowledged when she was awarded with the 2017 Otago Polytechnic Art and Community Connections Scholarship - $1500 towards her post graduate study.
'I'm really buzzed. I'm grateful for the scholarship money and it is recognition of the work that I'm doing."
Alicia now plans to volunteer in High Schools around Dunedin. She's a Christian, and it's important to her to help people by sharing her artistic techniques and life lessons.
"This coming term I'm teaching textile art skills to a small group of girls at Otago Girls' High School during their Club Period. As we create we'll discuss a variety of subjects, from nutrition to stress to life-goals."
"Community art is so important. When people become involved in a creative network, benefits can add value on a totally different level."