Living her dream
AJ Carrick's family instilled in her a love of adventure, and now she's channelled her passion into a fulfilling and enjoyable career.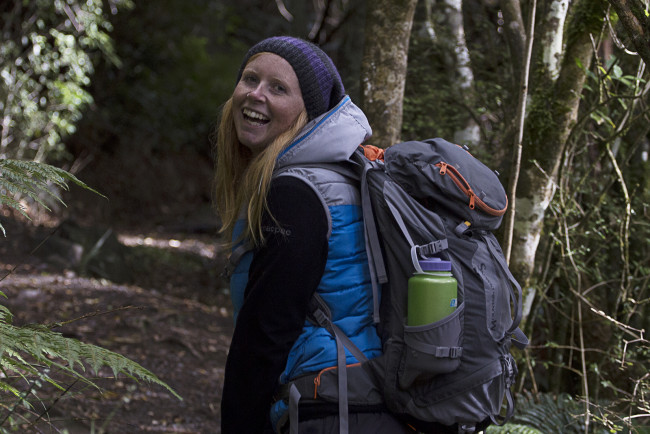 Study
Diploma in Outdoor Leadership and Management (Level 5)
I love everything about my job. I get to meet people from all over the world and learn new skills.
23 year old AJ Carrick grew up with a very outdoors lifestyle.
"My parents took my brother and I camping a lot as well as getting us into mountain biking, tramping, orienteering and sailing. We were lucky enough to experience lots of different adventures which gave me a love and appreciation of the outdoors."
So it was no surprise when AJ decided to study the Diploma in Outdoor Leadership and Management (Level 5)*. AJ chose Otago Polytechnic because the programme was very practical. "I'm more of a hands-on person and I learn by watching then doing it myself so the Otago Polytechnic setting was perfect for me."
"I really enjoyed studying the Diploma. I loved being outside all the time, experiencing new challenges, meeting new people and also appreciated the enthusiasm of the lecturers and their love of teaching. The best thing about the qualification was it helped me get my dream job straight out of the programme and helped me gain other qualifications such as kayaking awards and first aid certification.
I now spend my summers up in Abel Tasman working as a Sea Kayak and Walk Guide for Wilsons Abel Tasman. In the winter I get to spend time either travelling overseas, catching up with my family in Dunedin or working in other roles in the outdoor industry.
"My job is really fun. I have the best 'office' in the world. It really is a slice of paradise. I get to see a lot of different birds, New Zealand fur seals, stingrays and the occasional pod of dolphins or Orca.
"Since graduating I keep myself busy pursuing lots of goals and outdoor hobbies. I recently walked 100 kilometres non-stop to raise money for Oxfam and I plan to walk the Te Araroa Trail from Cape Reinga to Bluff shortly. I'm also planning on studying environmental science or biology to help learn more about the environment."