Satellite learning leads to new orbit
Malita Fanning enjoys helping women overcome challenges.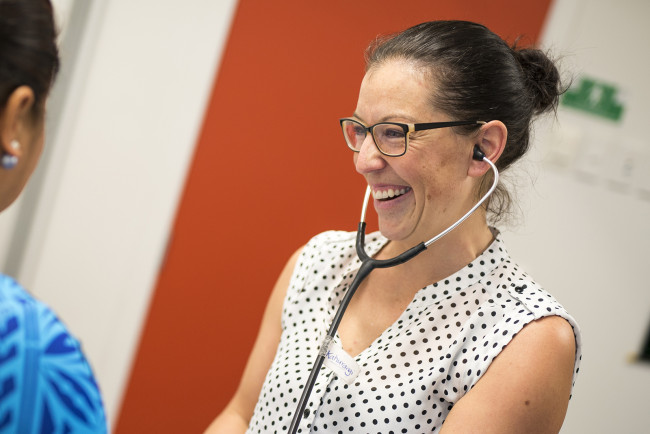 The flexibility was great. Online learning means that you can pick and choose when you do your study.
Malita Fanning chose a career change to Midwifery after eight-years working in Telecommunications Marketing. "Midwifery was something I had always been interested in," she says, "but I was a little scared, to be honest, of the responsibility. It took till after my last child for me to decide to do it."
Based in Wellington, she studied for the Bachelor of Midwifery through Otago Polytechnic's Wellington satellite. "Otago Polytechnic was the only institute that offered distance education," she explains. "The flexibility was great. Online learning means that you can pick and choose when you do your study. There are some compulsory online lectures, but you can easily fit these in at home."
Malita highlights the importance of self-motivation with distance learning. "No one's going to do it for you – but coming together with a tutor and students makes it all work really well." Every week she also had a face-to-face tutorial, where she met with other students and a tutor based in Wellington. "The course tutors were amazing. They're so supportive and knowledgeable – and go above and beyond to support you."
The most rewarding aspect about her profession is supporting women to overcome challenges – whether before, during or after the birth. "I love seeing how proud they are of themselves, and to think I've supported them through the process is an awesome experience."
Malita believes Otago Polytechnic has definitely prepared her for a career as a midwife. "It's all encompassing: the study, the practice, following the women, following the midwife, and living the life of a midwife as a student," she says. "It makes it real. You know exactly what you're in for. I can't imagine doing it anywhere else."
→
Bachelor of Midwifery
Attain a unique and internationally-renowned qualification which leads to registration as a midwife in New Zealand. Receive a solid theoretical education and gain significant midwifery practice in a range of settings. Study in one of five satellites through blended learning with compulsory block courses in Dunedin or Kapiti.