Redesigning his life
Crichton Tahana's story goes much deeper than creating clothes from recycled materials.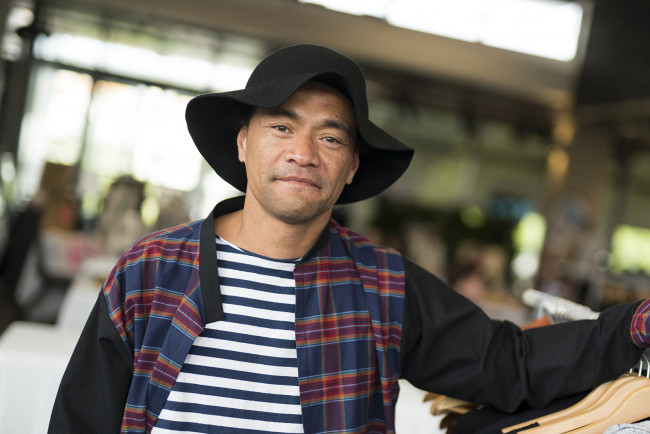 I've never done anything like this before so I'm pretty excited.
Otago Polytechnic has empowered Crichton Tahana to turn around his life.
Crichton (42) is about to graduate with a Bachelor of Design (Fashion) and will proudly showcase his range of garments, developed as part of his year-3 studies, at Collections 17 tonight.
Yet Crichton's story goes much deeper than creating clothes from recycled materials – he has left behind a life of crime and is firmly focused on his future.
Originally from Papakura, South Auckland, Crichton dropped out of high school and got into a "lot of trouble". He has been in jail more than once, his longest incarceration spanning four and a half-years (for burglary).
However, he arrived at a point in his life where he knew he needed to take some positive steps to change.
Crichton decided to go "back to school" – specifically, Otago Polytechnic, where his academic achievements over the past several years provide clear proof of his dedication to bettering himself.
Since enrolling at Otago Polytechnic in 2012, he has progressed from a Certificate in Foundation Studies (level 3) and a Certificate in Creative Studies (level 3), to a Certificate in Fashion Studies (level 4), before he gained entry into the Bachelor of Design (Fashion) programme.
Yet it was only by chance Crichton got into fashion design. He had originally intended to study Product Design, but there was a hiccup that meant he had to change his plans.
I didn't fill out the paperwork properly and I missed out on a placement.
He asked if there were other programmes available and was offered a place in Fashion.
"I love it" Crichton says, adding a recent gift – an industrial sewing machine from former Otago Polytechnic Fashion Design student Fiona Clements – has been much appreciated and will help him continue building his label, "1000" (which stands for "one of our own").
"I've never done anything like this before so I'm pretty excited. I was into clothes when I was younger, but hadn't thought about designing them."