Never far from the action
From cricket tests to Ed Sheeran concerts, Yannis Warrender is still keeping his feet on the ground.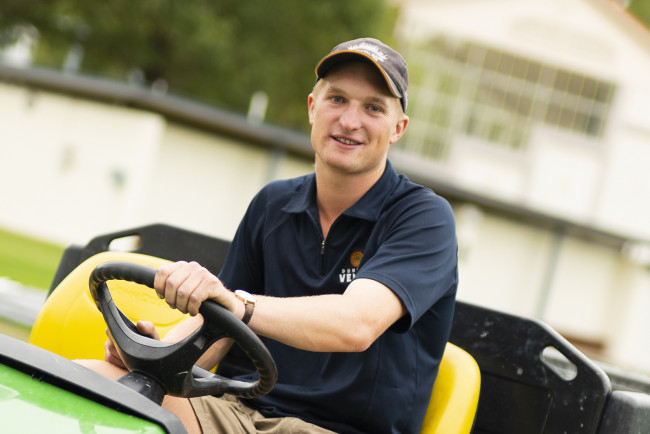 I'm much more of a hands-on learner, so doing this internship with DVML has really helped me understand things.
"Sports-mad", Otago Polytechnic student Yannis Warrender is in the last semester of a New Zealand Certificate in Horticulture Services (Sports Turf) programme. He has spent the past six months as an intern with Dunedin Venues Management Limited.
As part of his role, he has helped prepare the indoor surface at Forsyth Barr Stadium for a range of rugby matches, including this weekend's Super clash between the Highlanders and Brumbies.
Yannis was also a member of the grounds-keeping team that ensured the University of Otago Oval was up to prime international-standard for the recent New Zealand-England cricket test.
And he was also involved in Ed Sheeran's series of concerts – albeit at grass-roots level.
"I mowed the surface before they put down the plastic flooring for Ed's concerts. We then put a lot of fertiliser on the surface after the series of concerts to enable the grass to spring back up."
The only full-time Sports Turf programme on offer in New Zealand, the certificate provides a balance of theoretical and practical studies — precisely the reason why Yannis chose to move from Southland to Otago Polytechnic's Cromwell campus, where the programme is based.
Dig beneath the surface and you'll find a range of other areas of learning.
On an autumn day defined by a bleak southerly squall that has postponed any outdoor activities, Yannis is inside attending to mowers and other machinery. Although he has no problem getting his hands dirty — after all, he grew up on a dairy farm — he hints he would rather be riding a tractor than oiling one.
"I'm much more of a hands-on learner, so doing this internship with DVML has really helped me understand things. The on-the-job experiences have helped me put together the pieces of a puzzle," Yannis says.
"I started the internship at the start of summer, just as the cricket season was starting.
"That Black Caps test against England was a phenomenal opportunity. There were some pretty big days. There were times when I was sitting on the tractor, ready to race out and pull the covers across the wicket block if it rained. We were looking over our shoulders the whole game.
Otago Polytechnic and DVML recently signed a Memorandum of Understanding. As a result DVML will offer up to four paid internships per year for learners completing the Sports Turf programme. In addition, DVML experts will provide tutoring and host field day experiences directly related to the programme.
Michael Davies, Head of Turf Services and Development at DVML, says it's a win-win arrangement.
"Otago Polytechnic's Sports Turf programme is proven, so as an employer we know we are getting quality people.
"And being involved in an internship programme takes away any risk. Because we get to work with people, we get a very good feel for them."
→
Level 4 Sports Turf (on campus)
This is the only full-time sports turf programme on offer in New Zealand and you will benefit from our close proximity to world-class sporting venues. Upon successful completion, you will graduate with a New Zealand Certificate in Horticulture Services (Level 4) (Sports Turf).