Hitting the ground running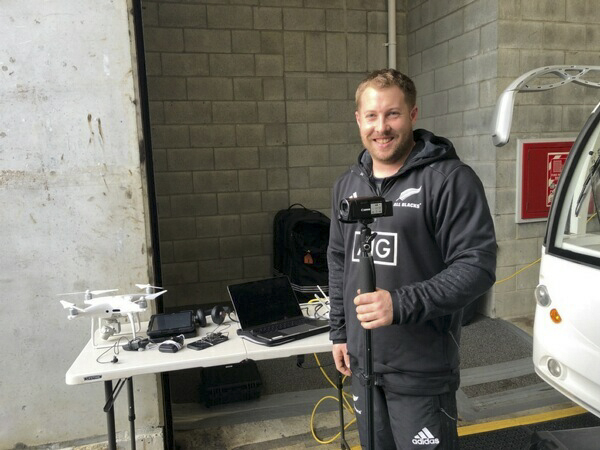 Growing up I always wanted to be an All Black, but I wasn't quite talented enough, so this is the next best thing.
Talk about hitting the ground running.
Hayden Chapman started his new job as assistant performance analyst with the All Blacks at the start of June. Less than two weeks later, the Rugby World Cup champions began their three-test series against France.
A combination of fitness, flair and determination has helped the All Blacks to two successive test wins. Yet, as the third test at Dunedin's Forsyth Barr Stadium looms this weekend, Hayden is all too aware that success in elite-level sport is often the result of many small things done well.
Which is where Hayden comes in.
He specialised in Performance Analysis at Otago Polytechnic, gaining a Graduate Diploma in Applied Science* in 2015, a qualification that directly led to him being employed by the Highlanders Super Rugby franchise, which won the competition that year.
Hayden has remained with the Highlanders since. In fact, his contract with the Rugby New Zealand covers both the All Blacks and the Super franchise, meaning he can bounce between the roles depending on requirements.
"It's pretty exciting," Hayden says.
"I'd say most people in this field would strive to work with the top team in its code – and the All Blacks are.
"Growing up, I always wanted to be an All Black, but I wasn't quite talented enough, so this is the next best thing," says Hayden, who will also be involved in the All Blacks' Investec Rugby Championship campaign against Australia, South Africa and Argentina starting in August as well as their traditional northern hemisphere tour in November.
The field of Performance Analysis is focused primarily on the technical and tactical elements of the game. This means Hayden is often granted a front-row view of some of the best athletes in the world.
He films training sessions and collates footage from matches, then sorts or "codes" it, depending on what his coaching team wants. For example, sometimes he'll focus on a specific player's technique, or zoom in on set pieces to see what can be improved.
"I attend coaches' meetings to help them prepare the team as best they can. Everyone is working towards getting the players to perform at their best.
You have to communicate with the coaches and find out what information they need regarding players and sessions. You also analyse your own performances, to see how you could do better next time.
This notion could be applied to Hayden's time at Otago Polytechnic, too.
As he advanced through his Bachelor of Applied Science, Hayden saw a career path open before him, aided by a range of opportunities facilitated by his tutors, who have strong relationships with a range of sporting groups, including Otago Rugby and the Southern Steel netball franchise.
"I did some internships, including with the Otago rugby team, then the Highlanders in 2015, which turned into a paid role," Hayden says.
"Otago Polytechnic gave me the opportunity to get to where I am now."
*This qualification has now been replaced by our suite of postgraduate applied science programmes.