Here's to hands-on learning
Brennan Honour loves being outdoors and solving practical problems.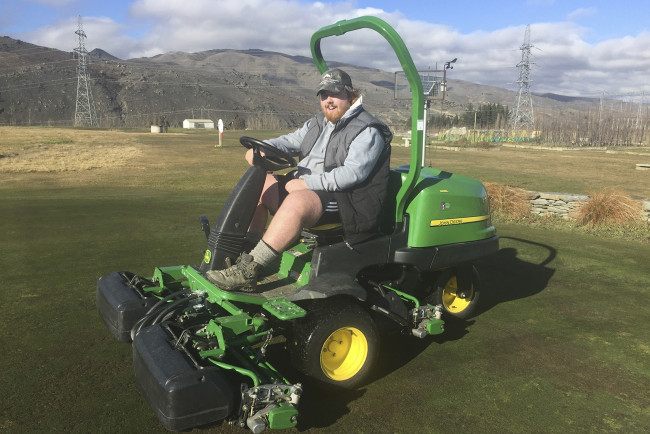 The six-hole chip-and-putt golf course on site means you can learn in a low-pressure environment.
Brennan Honour is combining his love of the outdoors with his passion for sport.
Brennan is enrolled in Otago Polytechnic's New Zealand Certificate in Horticulture Services (Sports Turf) programme.
Based at Otago Polytechnic's Cromwell campus, it is the only full-time Sports Turf programme on offer in New Zealand and provides a balance of theoretical and practical studies.
"I love being outdoors and wanted to do something practical.," Brennan says.
"I have always played sport and am very passionate about it. I have predominantly played rugby and cricket, but many other sports on the side as well."
Brennan grew up in Auckland but moved to Dunedin when he was 15 to attend Otago Boys High School.
"After being accepted into the course in year-13 I took the opportunity to move to Cromwell. I knew a few people from school," says Brennan, adding he had no experience in horticulture before enrolling.
"It was very foreign territory for me. I didn't really know what to expect.
"The course is a very good blend of practical and theory. The six-hole chip-and-putt golf course on site means you can learn in a low-pressure environment.
"There is a lot of practical hands-on learning. I go to the Queenstown Events Centre on Fridays for work experience."
Brennan's studies are taking him further afield, too.
"In October, I will be moving back home to Auckland to do a six-month placement at Eden Park."
October is looming as a big month for Brennan, who has been selected to attend the World Federation of Colleges and Polytechnics 2018 World Congress Young Leaders Camp in Melbourne.
The Young Leaders Camp, from 7-11 October, aims to engage professional and technical education students in relevant discussions and debates on the position and role of students in professional and technical education globally
In addition, the camp enables professional and technical students to make connections with other students from across the globe. It also seeks to embed the voice of students in the World Congress
"I am very excited," says Brennan, who will join Otago Polytechnic Nursing student Devon Kilkelly at the camp.
"I hope to gain valuable knowledge, experience and understanding from the leadership camp to help me be a better leader."
"Otago Polytechnic has covered pretty much all expenses for this camp."