A problem shared
Brothers enjoy putting their practical inclinations to the test.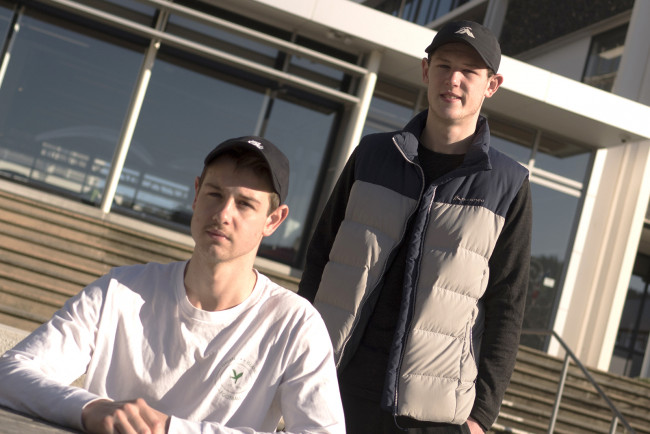 Cameron and Conrad Sinclair
A big part of our approach is being able to problem-solve.
Dunedin brothers Cameron and Conrad Sinclair love to solve problems.
Having heard "great things" about the Engineering programmes at Otago Polytechnic, the Dunedin-raised brothers chose to remain in the city to study after leaving Kavanagh College.
Now into the second year of a New Zealand Diploma of Engineering (Civil Engineering), both brothers are taking extra papers that will enable them to progress to a Bachelor of Engineering, should they choose to continue their tertiary studies.
"I like to visualise and draw solutions to problems," Cameron (21) says. "I really like the practical aspects of engineering."
Conrad (19): "A big part of our approach is being able to problem-solve."
The pair have also rolled up their sleeves and got stuck into a range of infrastructure projects on a remote Vanuatu island.
They joined 14 other students and staff from Otago Polytechnic's School of Engineering and flew to Paama in September 2018. Paama, one of the smaller of the 83 islands that comprise the nation of Vanuatu, is a 40-minute flight north of the capital, Port Vila.
The Otago Polytechnic contingent spent 10 days on Paama, integrating their classroom-based projects and academic theory with important practical, real-world experience.
Specifically aimed at students who have completed Civil Engineering programmes in Water and Waste Systems and Water and Waste Management, the projects included water disinfection, desalination, gravity-based water systems, sanitation, solar pumps and solar cooking.
The pair relished the chance to get involved with the island community. This included sharing their football (soccer) skills with the local children.
Richard Nyhof, Head of the College of Engineering, Construction and Living Sciences, says the Vanuatu project is another example of Otago Polytechnic's hands-on learning.
"Our approach to teaching equips learners with the confidence and ability to tackle real-world problems," Richard says.