Ah, Vienna
Georgia Ferguson has relished the chance to learn from a master.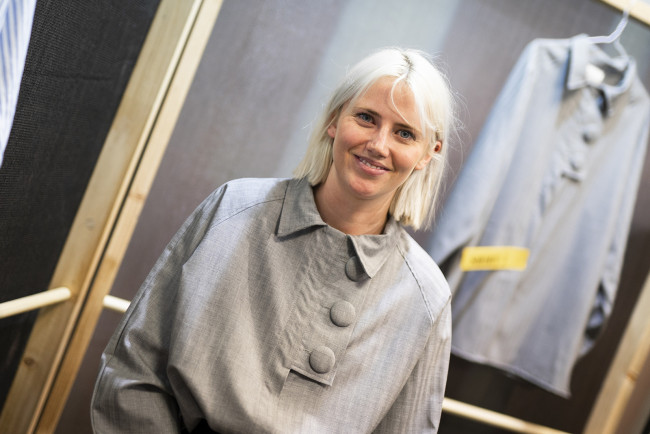 I'm hoping the contrast of studying in Vienna under a famous fashion designer will provide further insights.
Otago Polytechnic Masters student Georgia Ferguson has travelled lots – including living in Vanuatu, Japan, England, Italy and Australia – but she loves Dunedin's creative vibe.
In fact, her Master of Design thesis will focus on why Dunedin inspires her, and others, to be creative
Georgia, who has "always" been interested in fashion, enrolled in a Bachelor of Design (Fashion) at Otago Polytechnic when she left school. In her second year, she spent a semester studying at Milan's Istituto Europeo di Design.
She graduated from Otago Polytechnic at the beginning of 2014, worked in Auckland and Sydney for a few years, then returned to Dunedin to embark on post-graduate Design studies.
"After my Milan experience, I knew I wanted to do more study at an international school so, with that in mind, I enrolled in Honours in Design in 2017," Georgia explains.
For the past two years, Georgia has been working with a fashion start-up, Ultra-Merino. She sees a future in start-ups, "growing small businesses". Being in a small yet vibrant city helps, too.
Georgia is the first Otago Polytechnic student to be accepted into a new exchange relationship with the University of Applied Arts in Vienna.
She will spend nine months there, working on her Master of Design while studying under Professor of Fashion Hussein Chalayan, named by Time magazine as one of the 100 most influential innovators of the 21st century and described by Vogue as the "premier intellectual designer of his generation".
"I could only dream of studying under a person of his calibre," Georgia says, adding that the University of Applied Arts in Vienna names a new designer to lead its fashion programme every three years. Previous appointments include Karl Lagerfeld and Raf Simmons.
Georgia believes the opportunity to learn from Chalayan will add resonance to her Masters thesis, which will explore Dunedin's creative and cultural drivers and, in particular, her own design practice within that sphere.
In order to more deeply examine some of the influences on Dunedin's creativity, I need to remove myself from here in order to get a different perspective.
"So I'm hoping the contrast of studying in Vienna under a famous fashion designer will provide further insights."
→
Master of Design
This qualification of excellence allows you to develop a significant body of scholarly creative work which is presented in a public forum and supported by an exegesis or equivalent. Alternatively, you can complete this programme through a thesis which could form the basis of academic journal articles. Graduates will be well-prepared for doctoral-level study, an academic career or a lead design or design management role.
→
Bachelor of Design (Fashion)
Become a fashion designer or skilled, industry-ready fashion professional with this internationally-recognised qualification. Sewing skills aren't essential, as long as; you're into fashion, you're creative, a hard worker and a risk taker. This leading fashion degree is recognised for its international opportunities, industry connections and the chance to develop your style and identity as a designer. The programme is hands-on and reflects current industry practice. You'll develop your advanced design and technical skills, extend your market knowledge and explore enterprise opportunities. A work-based learning option is available for those with prior experience.