A creation story
Hope Duncan enjoys weaving together various threads of knowledge.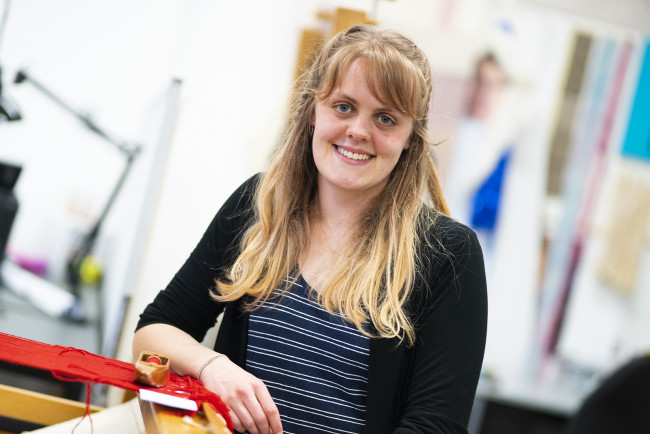 I would love to gain work within the textile industry, as a designer or maker, and to be able to use 'making' as a way of assisting people would be fantastic, too.
Hope Duncan grew up learning to knit, sew, crochet, embroider, spin, metal smith, and wood turn. "Both my granddads were engineers and technical teachers," she says. "I feel that I have inherited their love of examining machine workings, mastering techniques and problem solving, along with their hunger for knowledge."
It had always been Hope's aim to work with rural communities in a role where she could utilise these skills, and in 2017 she graduated with a degree in Occupational Therapy. "However, on graduation, I decided I wanted to spend some hands-on time creating," Hope explains.
I felt my degree had satisfied my desire for academic challenge, but I still had a deep desire to create – so I enrolled for the Graduate Diploma in Visual Arts.
One of the real benefits of attending the Dunedin School of Art has been the opportunities to receive feedback on her creations from a variety of sources. In 2017, Hope received invaluable feedback from people working in the textile and design industry, after she was 'highly commended' at the ECC Craft and Design awards. She has also appreciated the chance to discuss her works, and the international art world, with visiting Artists in Residence.
Hope recently partnered with Dunedin scientist Dr Christina McGraw to create a piece of art based on Dr McGraw's research into ocean acidification. They decided upon the idea of creating a 'jellyfish', and the work was exhibited at the Arts and Oceans exhibition.
"The jellyfish was constructed from materials that form a possible solution to part of our waste production problem," Hope says. "It's hoped that the beauty of this piece reminds the viewer of what an incredible marine world we have and gets them thinking about what they can do to help preserve it."
→
Graduate Diploma in Visual Arts
If you already hold a degree and would like to develop your fine arts skills, this programme offers you the chance to carry out an intensive course of study, tailored to suit your individual goals and requirements.