Making a statement
Emily Davidson is using her eyecatching sculptures to communicate ideas around the portrayal of women in the media.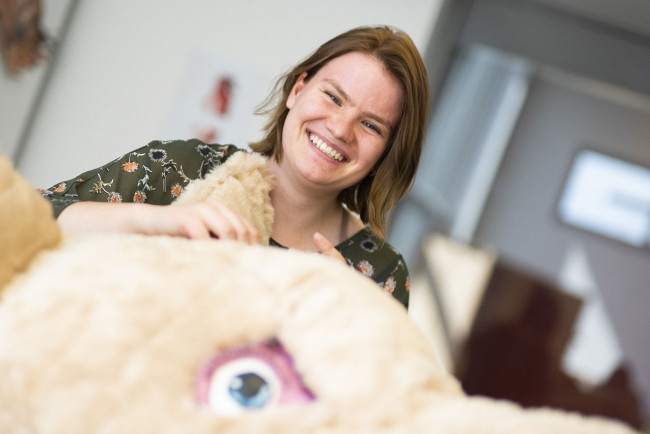 A lot of people have preconceived ideas of what art school is like and what kind of art people make. My best advice to potential students would be to keep an open mind.
Now in her final year of a Bachelor of Visual Arts (Honours) degree, Emily Davidson's current work focuses on common representations of women in film and television.
I'm interested in how certain stereotypes are applied to certain characters, depending on the role they play," she explains. "Female villains are usually overly sexualised, and female action heroes are often masculinised (like Ripley from Alien).
Emily chose to specialise in sculpture because you aren't just limited to one medium – or one way of producing work.
"There are endless ways to make work, like performance, found-object, installation, site-specific, and the more traditional route of actual sculpting," she says.
Emily is grateful for the many opportunities the School of Art provides, not only to learn new skills in a wide variety of areas, but also to benefit from the company of like-minded staff and students.
"It's great to see everyone's work come together at the end of the year, especially when you've been in the same studio." she says. "And connecting with other creatives throughout the course, being able to discuss your work, is really important for developing your ideas. It can give you real insight into your project that you may not have had before those conversations."
→
Bachelor of Visual Arts (Honours)
Ideal if you are a high achiever who intends to pursue further study, this research-focused programme culminates in an exhibition and writings demonstrating your intellectual rigour and professional expertise.