Bright spark
Conor Lawrence attracted by practical, project-based learning.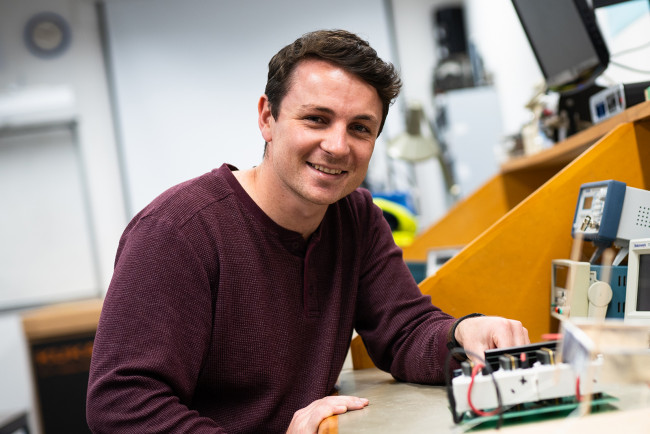 I'm able to apply my knowledge to real-world situations.
Conor Lawrence loves nothing more than connecting the spark of an idea to a practical outcome.
Therefore, it comes as no surprise that he chose to study a Bachelor of Engineering Technology (Electrical) at Otago Polytechnic.
Conor says he was attracted to Otago Polytechnic because of the strong reputation of its Engineering programmes and the fact that the subject is approached in a more practical, project-based way.
"I started off doing the New Zealand Diploma in Engineering (Electrical), then progressed to the Bachelor's Degree, because I believe that will strengthen my options for a career.
"I really like how all the papers I have taken have led to me being able to explore practical projects.
From Oamaru, Conor has been working part-time in the power distribution industry in his hometown and plans to take up a full-time offer once he finishes his third and final year of the Bachelor's Degree at Otago Polytechnic.
Conor was recently invited to an international energy conference in Slovenia, where he will present a paper on his design and research involving an "ionic propulsion system", a flow of ions propelled by no fewer than 40,000 volts fired across two asymmetrical electrodes.
"I am beyond excited to have my paper accepted into an international conference.
"When I first began my studies at Otago Polytechnic, I never thought that my studies would have led me to this opportunity."
→
Bachelor of Engineering Technology
Become an engineering technologist! Learn engineering theory and the applied and practical skills required to work in a wide range of industries, and gain a deep understanding of your area of specialisation through an industry-based project. Mechanical, Civil and Electrical specialties available. If you have existing skills and knowledge due to practical experience in this area, you could study this programme via distance through Capable NZ (our recognition of prior learning centre). You may have already gained credits towards this qualification.