Down to a fine art
When he's not working as Collections Assistant at the Dunedin Public Art Gallery, textile artist Jay Hutchinson creates embroidery replicas of rubbish and graffiti he finds on the street.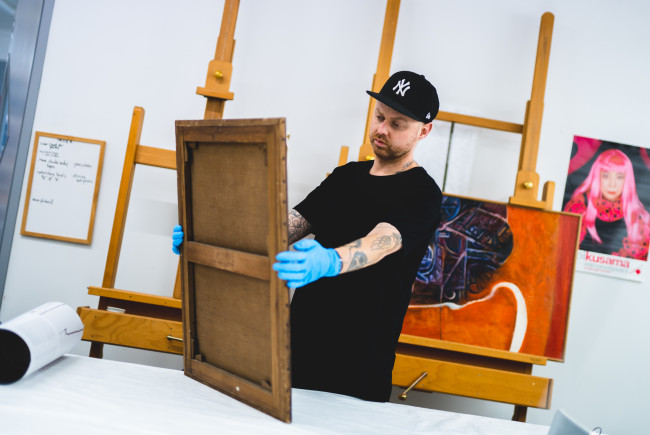 Jay Hutchinson
Collections Assistant, Dunedin Public Art Gallery
I always think it's funny – I went into art school wanting to make big canvas works with messy paint, and I came out doing tiny little embroideries.
Jay Hutchinson spends a lot of time thinking about rubbish.
On his desk at the Dunedin Public Art Gallery, he has a box full of discarded trash collected on walks around city streets.
He is full of anticipation at the prospect of collecting rubbish in America on an upcoming trip, and admits he once applied for a residency in China largely because of the lure of exotic garbage.
Why? So he can take each piece home and painstakingly reproduce it in fabric and hand embroidery, transforming it from trash to treasure.
I can't just go and buy the rubbish; I have to find it so it has a street-worn aesthetic. Each piece is unique – I've embroidered three different Coke cans.
For one recent exhibition at Olga Gallery, Jay framed his tiny embroideries using offcuts from local framers that would otherwise be thrown away – using waste to frame his representations of waste.
I see them as artefacts," he says. "All of these things will be elements of the past one day, and people will look back at us and think, 'Why did they make plastic? How was plastic ever a good idea?'
His work involves "dissolving materiality", so the finished work stops being about the material it is made from and becomes something else.
"I'm trying to push textiles to a whole new level," Jay says.
He is now in the process of recreating a beaten up, five-metre-long corrugated-iron fence from embroidered fabric – an ambitious undertaking.
I photograph the real fence, measuring where all the scratches and dents are, and then I reproduce those on the fabric," he says. "First, I embroider it flat, then lay it on a corrugated surface to get where the curves are. Then I treat the fabric with polyvinyl acetate and starch, build a frame for it, and bolt it on."
Jay's time at art school tested many of his assumptions. He arrived wanting to paint huge, graffiti-inspired canvases, following in the footsteps of artists like Jean-Michel Basquiat.
I had a set idea, and the tutors and lecturers were always trying to push me out of that comfort zone. I was always really reluctant – only to discover that once I did get out of my comfort zone, things got significantly better for me.
In addition to his own work, Jay has a full-time role at the Dunedin Public Art Gallery as Collections Assistant. His position involves the packing and transport of artwork, as well as working with the gallery's Registrar to create storage solutions and write condition reports. Currently, he is working alongside the Conservator, restoring an artwork.
First I learnt how to repair and touch up frames, and now I'm learning how to repair and touch up paintings. I'm learning to fill rips and tears, and to paint in a way that when you step back, it doesn't stand out.
Working with precious and valuable artworks in the Dunedin Public Art Gallery's collection may seem incongruous with collecting trash and recreating it in embroidery. But for Jay, the two appeal for similar reasons.
"Both are slow and methodical, and for some reason I enjoy that way of working," he says.
A lot of the friends I grew up with are particularly surprised with what I do – we used to play in punk bands together, and now I'm repairing paintings and doing embroideries.
They've made it theirs - now make it yours!
→
Master of Visual Arts
Develop and display mastery of the professional, technical and conceptual skills relevant to your chosen field through an original exhibition and associated writing, leading to a broader range of career options.
→
Bachelor of Visual Arts
Translate your creativity into a career! A qualification in the Visual Arts will allow you to find employment in an exciting and diverse range of professions such as a practising artist, curator, art educator or researcher. A variety of roles within the digital and film industries would also be possible.