Spirit of adventure
Tourism guide and award-winning filmmaker Sophie Ballagh lives a life of adventure and exploration in extreme and often hostile environments.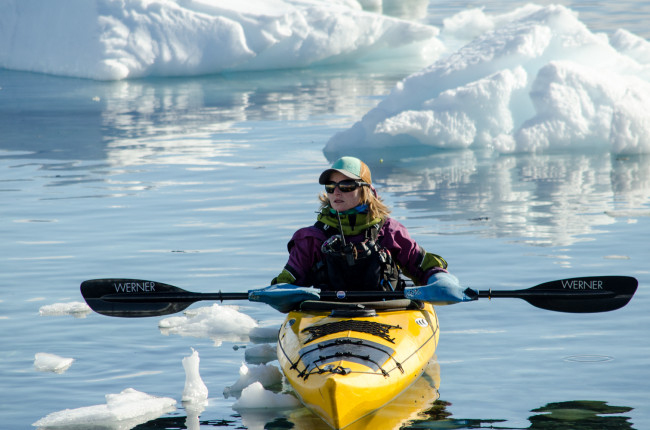 Sophie Ballagh
BallaghBlyth Outdoor Professionals
Not only am I in some of the world's most amazing natural wonderlands, but I get to help others experience them – it's magic!
Sophie Ballagh admits she's addicted to the polar regions – so much so, she and her partner jumped at the chance to spend two weeks alone braving the elements in Antarctica.
They captured this incredible experience in their documentary, ICEolation, which won Best New Zealand Film at the Mountain Film and Book Festival in 2019.
With a love of the outdoors and a talent for teaching, coaching and mentoring others, Sophie launched her career by studying Outdoor Leadership and Management* at Otago Polytechnic. She went on to teach the programme for a number of years, before deciding to branch out internationally.
I left New Zealand in search of world travels and experiences – and I certainly got them!" she says. "One great guiding job led to another which took me to Antarctica, working as a guide on vessels.
This sparked a passion that dictates her lifestyle to this day.
"My partner, Ewan Blyth, and I work on vessels that depart from the southern tip of Argentina and head for Antarctica, educating others and helping them experience this unique and phenomenal place," she says. "We also spend time guiding in Svalbard in the Norwegian Arctic. In between contracts, we often travel to warmer climates to thaw out a little!"
One of their bosses suggested that, in between contracts, they could be dropped off on the Antarctic Peninsula and picked up two weeks later when the ship returned.
How could we say no? It was a chance to experience a deeper connection with a place we have worked in for so long and love so much.
It took 18 months to plan the trip, gaining permits and sourcing the appropriate survival gear. And once all had come together and they got on their way, Sophie says she experienced some of the best and hardest times of her life.
When it is just the two of you and the elements, you really form a bond like no other," she says. "I love being at the mercy of the weather gods, and using all the skills that I have learnt studying and working to stay safe and make sound decisions.
ICEolation, the film that documents this experience of a lifetime, is a breathtaking watch.
"It has blown our minds how well the film has been received," she says. "We are really happy with the final product and so pleased that family, friends and strangers all get to see some of what we experienced and a piece of such an amazing continent."
Sophie hopes that the film will encourage others – particularly young people.
"I hope they will be inspired to adventure and explore and protect wild spaces. Get outside, enjoy wilderness and protect our beautiful planet!"
*Now offered as the Certificate in Outdoor and Adventure Education (Multi-skilled) (Level 4) and Diploma in Outdoor and Adventure Education (Multi-skilled) (Level 5).
They've made it theirs - now make it yours!