Dynamically digital
Two former Otago Polytechnic classmates are taking their passion and talent for film, design, animation and illustration to the next level, with their digital content creation company, Māui Studios.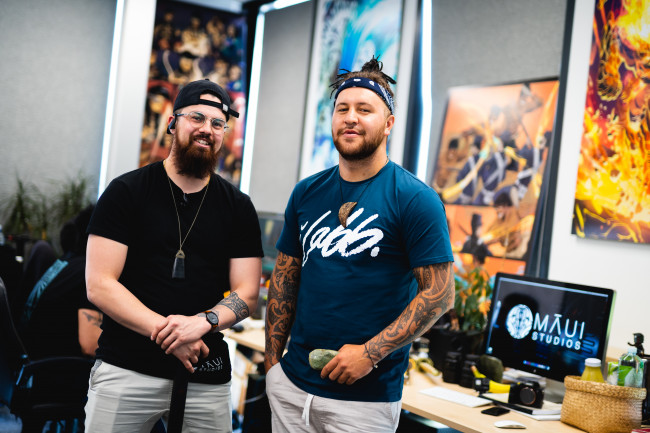 Vincent Egan and Madison Henry Ryan
Co-founders and Creatives, Māui Studios
The great thing about being a creative is that you never get bored – you're always doing something different and challenging that 9-5 mentality.
Vincent Egan and Madison Henry Ryan met while studying Communication Design at Otago Polytechnic, and they immediately hit it off.
"It was awesome to be working alongside Madison, and other like-minded people who shared my creative and cultural values," says Vincent.
"The degree incorporated graphic design, storytelling and problem solving, and we had the opportunity to discover what it means to communicate ideas by engaging in a whole range of creative mediums," says Madison.
Madison always knew he wanted to make a living from being creative.
"I grew up watching Dragon Ball Z and anime, and my friends and family did illustration, carving, ta moko and graffiti, so I was constantly exposed to inspiring content," he says. "During our studies, Vincent and I had the opportunity to pursue projects that allowed us to explore cultural identity as Māori and Pacific Islanders, which encouraged us to connect with our roots. We were stoked to be able to work on projects together and have a mean time doing it, too!"
After graduating, both men interned at Otago Polytechnic's former design studio, NewSplash, while freelancing on the side. Soon, they decided to go all out on their own, working on branding, website and film projects in Māori communities.
"We set our business up to fill a need within the Māori economy, so that we could work on purposeful projects and be self-determining," says Vincent. "We were creating work that aligned with our values, and that reflected te ao tangata whenua – the realm of Māoridom – which is much more our style."
Their business, Māui Studios, is thriving. Based in Christchurch, its seven team members create dynamic digital content, from augmented reality, apps and games, to films, websites and corporate branding.
We just celebrated our fifth anniversary in business and I'm humbled to have such amazing creative minds around me," says Madison. "Every day, I wake up and I can't wait to get into the studio.
Vincent is most proud that Māui Studios is in a position to influence and inspire others.
"We're working hard to push the boundaries, and to help lift the capability of our youth demographic and support our communities," he says.
"Right now, we're working with the Ministry of Education to develop an augmented reality graphic novel as a reo Māori curriculum resource. This is the stuff we love and we're really excited for it to come to life!"
They've made it theirs - now make it yours!