A swell career
Ian Hutton's career as a highly-respected chef has taken him all around Europe by land and by sea, cooking for the rich and famous.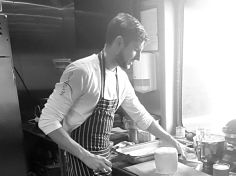 Ian Hutton
Super Yacht Head Chef
I'm doing what I always wanted to do – using my abilities as a chef to work and travel the world.
Ian Hutton has sailed to the top of his profession, as the head chef on a luxurious 120-metre super yacht in Germany.
He secured his very first job on a private yacht thanks to a connection made through one of his Otago Polytechnic teachers.
"I was at the airport ready to move to London when I heard from this mutual contact who worked on private yachts," he recalls.
I had to choose then and there whether to continue with my plans, or fly to Palma de Mallorca in Spain to work on a private yacht. Obviously, I chose the latter!
Ian spent the next 18 months cooking for elite guests on a luxury 55-metre vessel, and occasionally for private events at exclusive residences in London.
He then cooked his way through France, Spain, Italy and Greece on a 91 metre Lurseen super yacht, with the odd flight to Moscow to cook for his boss privately.
"I learnt a lot about Russian cuisine and furthered my training at restaurants there," he says. "After that, I based myself in Barcelona, staging in three Michelin star restaurants and continuing to cook for small charters on yachts."
Between then and now, he spent time as a private chef at a holiday villa in Portugal, something he –unsurprisingly – describes as a dream job!
There are many wonderful things about the career I've chosen. There's the travel, the ability to save money because you have no outgoing expenses, and the great people you meet and learn from.
Plus, there's another advantage to working for people who are often billionaires: "No product is too far away or too expensive to fly in."
Ian says his studies prepared him well for the workforce.
My teachers constantly pushed me and showed a keen interest in following me and supporting my ideas.
"I was able to attend demonstrations by well-known chefs, and be part of an award-winning team at the Toque d'Or culinary competition in Auckland."
As for the future, Ian has plans beyond super yachts.
"From here, the goal is to one day open my own restaurant, putting everything I've learnt over the years into creating something unique."
They're making it theirs - now make it yours!