Examining the wider picture
Ilan Avraham has spent much of his life balancing a desire to improve the lives of others with an urge to be creative. Architecture has provided a way for him to merge both.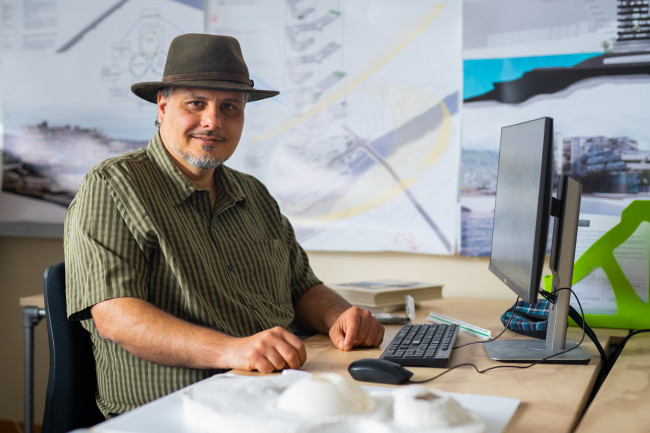 Architecture has the power and responsibility to improve not only the lives of people, but to enhance and protect the environment.
Three years ago, Ilan Avraham had reached a juncture in his life where he was looking for change so, at the age of 44, he left a 20-year career to enrol in the Bachelor of Architectural Studies at Otago Polytechnic.
Originally from Israel, Ilan moved to New Zealand in 2003 and continued a career as a social services support worker, his roles ranging from counselling and mental health support to working with people with intellectual impairment.
Yet a longstanding interest in architecture prompted his midlife u-turn.
"In general, it was an easy decision, although as a mature learner I did have concerns about how I would go returning to study. However, I believe that you have to grab your opportunities in life," Ilan says.
Such opportunities include a recent internship in Sri Lanka, where Ilan worked for a company called Habitat Chartered Architects & Engineers for three weeks.
The architectural internship, directed by Professor. M. Lalith De Silva, was an "unforgettable" experience," Ilan says.
"I was given the task of redesigning and modifying an exclusive multi-use nine-floor building. This responsibility included a need to address the client request, budgeting and local regulations.
"The most exciting and enjoyable aspect for me was that I felt I was treated as an equal. We all were brainstorming, figuring out solutions and examining different aspects of the building. Most of my proposals have been accepted. It seemed my contributions were highly valued."
Ilan says the experience was reassuring, proving that his studies at Otago Polytechnic had given him so many skills and methods by which to solve a range of problems.
"My studies have been so much more diverse than I expected. For example, when studying the impact of spaces on people, there were aspects of psychology and philosophy – both of which I'd explored as part of my social services background.
"It's interesting that I was drawn to social services because of a desire to help people.
"Well, it's the same with architecture. It has the power to improve life on a range of levels."
"I have learned that architecture touches all aspects of life. And I'm still learning, too."