Taking the interesting route
Quinn Mitchell might have stumbled into the wrong information session a few years ago, but that slight detour has certainly taken him on an interesting path.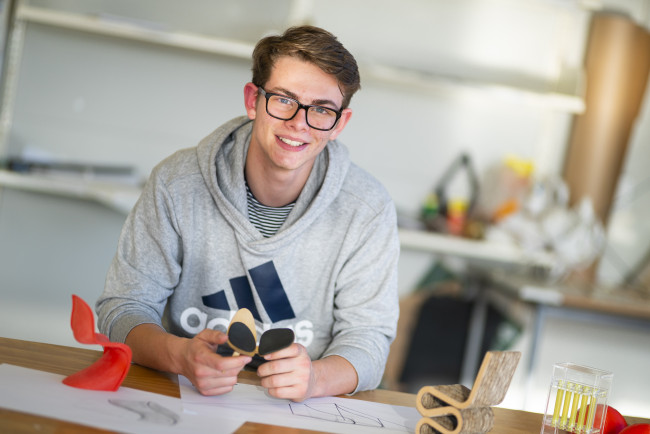 The lecturers are all very talented in their fields of expertise. It made me feel like I was always getting the best opportunity to learn and their constant feedback pushed my projects to the next level.
A few years ago, when Quinn was contemplating studying at Otago Polytechnic, he attended an open day at its Dunedin campus, where he accidently walked into a seminar on Product Design.
Three years later, Quinn is about to graduate with Bachelor of Design (Product) – and walk straight into a job.
"I am just about to start a new design job that I was offered before I'd even finished my degree – it's awesome to complete my studies not having to worry about what's next.
"I was also offered a really good paid internship over last summer for a company in Australia, so opportunities are always coming up."
Raised in Gore, Quinn admits he wasn't the biggest fan of certain classes at school, instead preferring subjects such as woodwork and graphics.
"The more I learnt about the Product Design Bachelor-level programme at Otago Polytechnic, the more excited I got. It is very practical and involves lots of problem-solving.
"My classes were always interesting and I really enjoyed learning new skills and programs. The relatively small class size meant I had plenty of time with the lecturers.
"There was plenty of support from the lecturers to adjust the course to how I wanted to learn – especially in the third year, when most of what I worked on were self-defined projects."
This year, Quinn has been working on a health sector-related project – specifically, a series of education kits developed in collaboration with WellSouth Otago.
Quinn and WellSouth Otago identified miscommunication around four treatable health conditions in New Zealand – diabetes, heart disease, kidney disease and asthma.
They developed a more a "user-centric design intervention" – in short, models to allow medical professionals to convey cause and treatments to patients.
Quinn says he would definitely recommend Otago Polytechnic's Bachelor of Design (Product) to anyone interested in design.
"Because it is so broad, you can really find an area to accommodate your particular passions or interests.
"One of the best things about it is that as an individual you really are in a position to innovate and problem-solve – to change the world we live in for the betterment of everyone."