Thomas' burger joint with a twist
Mix a large dash of passion with a healthy dose of entrepreneurial spirit, add a significant helping of work ethic and, voila, a burger joint with a vegan twist.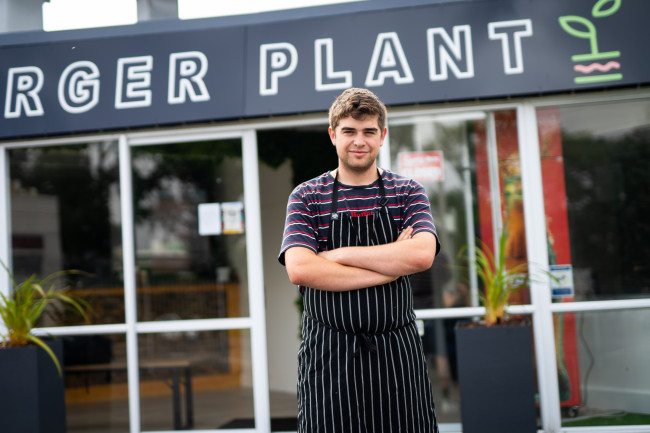 It's about offering people a vegan option – we have seven burger options, all based on a legume patty. We also offer vegan shakes, fries and donuts.
Otago Polytechnic graduate Thomas White opened his new vegan burger venture, Burger Plant, in February. The first weekend, he sold around 100 burgers. Less than a month later, he and his fast-growing team are serving up more than 1200 burgers a week.
The 21-year-old vegan food enthusiast already had a following for his legume-based burgers, having set up a stand, Straight Up Vegan, at the Otago Farmers Market, several months ago.
Yet Thomas admits he has been pleasantly surprised by the rapid growth in customers forming a chatty queue outside his Burger Plant site in the heart of Dunedin's student quarter.
Putting to one side the benefits of operating in a high foot traffic area, Thomas is also attuned to the frequency of consumer concern around sustainability.
In short, he knows he's not the only one worried about the environmental impacts of various modes of food production. And he's doing something about it. However, he is also aware many people have little appetite for being told how to think.
"And consumers are responding. The demand is huge. We started with five staff – now we have 12. I've just hired someone to prep the food because I was having to get up really early in the morning then working right through the day and night.
"I'm not complaining. It's great to be busy. But you also have to consider your own sustainability."
Thomas, who grew up on a sheep and beef farm near Tapanui, in West Otago, says his parents are highly supportive of his vegan principles as well as his business.
Thomas graduated with a Diploma in Hospitality Management (Level 5) last year, completing a three-year stint at Otago Polytechnic that included Certificates in Cookery (Level 3, Level 4). I wasn't a particularly academic pupil at school. I have dyslexia, so struggle with reading and writing. But that hasn't stopped me. I've had to work hard to achieve things, but I've had amazing support from my parents and others.
And now Thomas is helping others on their culinary journeys.
He has taken up a part-time role as a teacher-aide at John McGlashan College, supporting former mentor Duncan McLean, the school's new food teacher.
"Part of the role involves me training young chefs so they can compete in competitions. I've competed in quite a few over the years, so it's about sharing that knowledge.
"I just like helping people, seeing them grow and push themselves. My mum is a teacher, so perhaps I got it from her.
"I just know that if I didn't have the right support around me, I wouldn't be where I am today."