Art is not snatched, but won by study
Tasked with the creation of the Dunedin School of Art's 150th anniversary logo, Tiahli Curran-Hogg and Alysha Beattie pay tribute to the school's long history while introducing an element of light-hearted intrigue.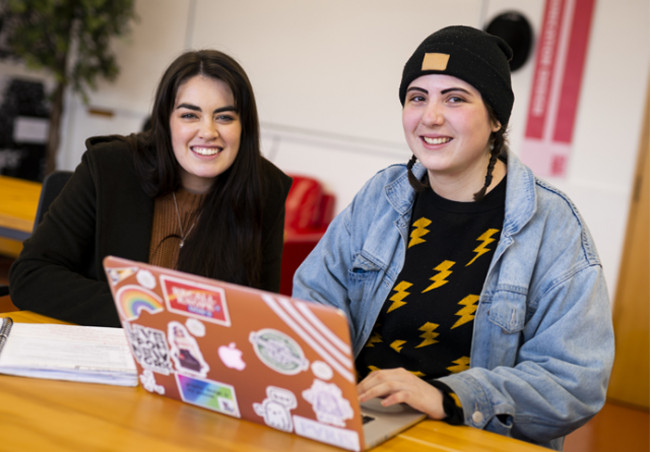 Tiahli Curran-Hogg and Alysha Beattie
It was nice doing something for the Polytech because it was familiar ground, rather than chucking ourselves in the deep end too early.
The two students, who are completing their Bachelor of Design (Honours) specialising in Communications, were given the cover of the school's first prospectus to seed the creative concept behind the logo. *
"As part of the brief, the art school gave us a really interesting image from 1924 to reference, of this girl and boy under a tree," Alysha says.
"We keyed in on the girl, she is drawing a rabbit that is sitting on the ground. The idea of the hand drawing the rabbit was playful and could stand alone outside of the whole image," continues Tiahli.
The process was as much about interpreting the image as it was about striking a balance between the celebration of 150 years of history and the identity of the art school in 2020.
"We took the graphic style and the illustration from tattoo design, using a really simplified line weight, while still incorporating that cross hatching that you see in the original print image. So, we play homage to the history but also show how the art school is a contemporary site," explains Tiahli.
Another element of the brief was the inclusion of the prospectus' slogan, 'art is not snatched, but won by study.' The catchphrase was incorporated into the labels for sesquicentennial-branded beer bottles, care of the Otago Brew School – the contents of which are destined for public consumption when the community comes together to celebrate the 150-year milestone in person.
Initially they were going to create artwork individually, with one logo being selected for production. They soon decided to collaborate instead.
"Alysha is good at graphic design and typography and I like illustration, so we were able to play off of each other's strengths," says Tiahli.
This turned out to be a sound strategy in light of the New Zealand's level four lockdown, which saw the two working in isolation.
"It's nice when you know you have limitations to have someone to lean on, and especially with the lockdown period, to have someone to hold you accountable," says Tiahli.
While design is such a personal thing, the pair agree the project went surprisingly smoothly.
"There haven't been too many times that we disagreed. We both have different areas we feel strongly about, but we tend to agree which has been really, really nice," says Tiahli.
The project has been a satisfying departure from classroom projects to a real-world application.
"It was a rewarding challenge working with a vast variety of stakeholders from start to finish in order to get the work completed to a high standard and make sure everyone was happy," says Alysha.
The project allowed the pair to develop their long-held love of visual creativity in the context of their degree.
"Alysha and I are both really into the branding and creating visual stories, logos and identities," explains Tiahli.
Tiahli spent her high-school years immersed in creative subjects and considered art school as her natural next step until she realised that she liked the practical side of the Bachelor of Design (Communications) course and the ability to connect with clients.
"I liked how broad the design course was, when you're trying to decide something to study for three years, it's nice to know that you still have options within the course. I got to mix things up quite often," Tiahli says.
Like Tiahli, Alysha was always a creative kid growing up.
"It was later on that I became drawn to graphic design and in particular branding. I wanted to study what I loved and hone my graphic design skills so in the future I can work with clients and make my branding ideas a physical reality," Alysha says.
As one of their first real-world client projects, seeing their work in action is fufilling.
"It's always a pleasure to see your work being used in the way you imagined it during the design process. It's nice to feel a sense of achievement, and happiness that I could contribute to the exciting Art School celebrations," says Alysha.
"It's a nice change from normal projects to be able to create the logo and hand it over, and have another team bring it to life, so it's been quite satisfying," adds Tiahli.
Their work on the Dunedin School of Art's 150th collateral will make a significant contribution to their portfolios.
"It's always great to have the sort of portfolio where you've interacted with real-world clients, I think it shows a lot of skills as a designer, that you're able to communicate and work in a team and meet deadlines and expectations," explains Tiahli.
"Since branding is my area of interest, it's really important to me that my portfolio shows different examples that showcase a range of my skills to encourage further opportunities. This particular project also shows that the Otago Polytech staff trusted us with the design process," says Alysha.
With Covid putting a different spin on the world, the pair are undecided about their future next year but are leaning towards further study.
"I'm still in the process of figuring out if I would like to continue onto my masters next year. All I know is that the end goal is to have a job I enjoy creating exciting and dynamic branding strategies that I can be proud of, and that other people love," says Alysha.
For Tiahli, the lockdown period opened another opportunity for her, and she is now considering segueing into a new profession.
"I'm currently tossing up whether I jump into masters or not. I've been working as a teaching assistant for the first- and second-year communication design degree students this year – I only had two weeks in the classroom and then leapt to solo online emergency teaching. I've been absolutely loving it," explains Tiahli.
* Scope: Contemporary Research Topics, Art & Design 12, Dunedin School of Art: a History, December 2016, page 54.