Making an impact
Scott Rhodes (Kāi Tahu) hopes a recent Rūnaka scholarship will help him to eventually help others.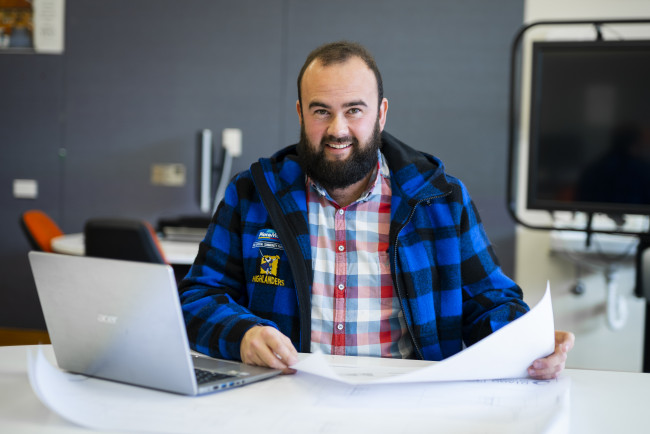 The staff have been extremely helpful, patient and are willing to go above and beyond in helping me succeed.
Scott says a recent Rūnaka scholarship, acknowledging the contribution he has made to his rūnaka and local community, "means a lot".
"I was born and raised in Dunedin and my whakapapa has been based in Otago for over 100 years. As a result, I have a deep connection to Dunedin."
Scott, who is studying a Bachelor of Engineering Technology (Civil) at Otago Polytechnic, says construction runs in the family.
My great-grandfather was a bridge builder. Every generation has been, in one way or another, linked to some form of construction. I now have a fond appreciation of all the work and sacrifices my family has made over the years to help me get to where I am now.
Before studying at Otago Polytechnic, Scott was working full-time in construction.
"I had the opportunity to work in some extremely challenging residential housing builds, which involved working alongside several structural engineers and geotechnical engineers," he says. "After witnessing both the challenging and rewarding side of what they do and talking to them about what is involved with the day-to-day life of an engineer, I started investigating where would be the best place for me to study.
I looked at all the different engineering institutions around New Zealand to see what would be the best place to learn. After hearing what engineering firms thought about Otago Polytechnic graduates and the practical skills they learnt while studying, I decided to enrol there.
Scott says he hasn't looked back.
"I am currently in my second year. All the papers I have taken continue to reinforce my desire to be involved in the civil engineering industry. Although the papers have been challenging, they have been extremely rewarding at the same time.
During the summer break I was fortunate enough to get a summer internship at Calibre Consulting. The work I completed there was very similar to what I studied during my first year, which confirmed my decision to study at Otago Polytechnic was the right one.
Scott says he would love to work in the Ngāi Tahu Property division once he is qualified and has the required experience to help the iwi continue to grow.
"This would help Ngāi Tahu continue its support of iwi and whānau while also allowing me to use my previous knowledge in construction to make housing more affordable."

→
Bachelor of Engineering Technology
Become an engineering technologist! Learn engineering theory and the applied and practical skills required to work in a wide range of industries, and gain a deep understanding of your area of specialisation through an industry-based project. Mechanical, Civil and Electrical specialties available. If you have existing skills and knowledge due to practical experience in this area, you could study this programme via distance through Capable NZ (our recognition of prior learning centre). You may have already gained credits towards this qualification.