From English to Art
For Pippi Miller, combining words and pictures is a perfect synthesis.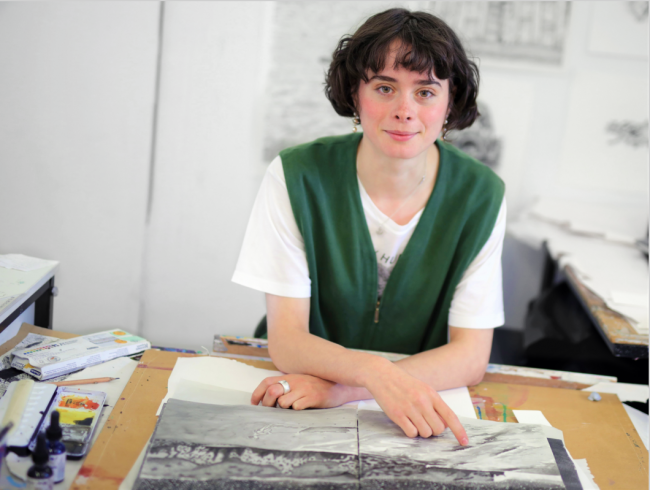 I came out of my English degree wanting to pay attention to my creativity, and nurture it. I wanted to make a picture book.
Pippi Miller has been reading children's literature and picture books for as long as she can remember. Growing up, she used to copy illustrations she liked, and draw animals from encyclopaedias.
Pippi is currently in the final weeks of a Graduate Diploma in Visual Arts, majoring in painting, a course of study that has enabled her to create, "what I'd been imagining without having to jump through the hoops of the lecturers at the same time".
She also found that "getting to spend all day drawing, four or five days a week was special".

Pippi says the Dunedin School of Art let her be independent and forge her own directions of study.
"I didn't need to go through the hand-holding and soul-searching that the early parts of degrees often offer.
"The lecturers did a good job of stepping aside and letting me do what I wanted".
Pippi's ties to Dunedin and its "relatively cheap rent" made it preferable for her to live and study here.
The Dunedin School of Art was not her first venture into study.
I came out of my English degree wanting to pay attention to my creativity and nurture it. I wanted to make a picture book.
"I wouldn't have got to try my hand at actual illustration if I hadn't been at Otago Polytechnic."
Pippi recently worked closely with a Dunedin poet, Fiona Farrell, producing illustrations based from Farrell's poetry.
Although the project has been put aside while Farrell attended to other work, the skills Pippi learnt helped her to further succeed in her studies.
In the future Pippi would like to take the skills and experience she's gained from her Graduate Diploma and make more stories – perhaps progressing to a Masters.
Pippi will be featuring her final work Headlands in the DSA SITE exhibition in late November.
Headlands is a picture book which explores topics such as loneliness, isolation and depression.
"My work has aspects of me in it. It is made of my thoughts and intentions, but I think as it developed, Headlands became its own thing."
→
Graduate Diploma in Visual Arts
If you already hold a degree and would like to develop your fine arts skills, this programme offers you the chance to carry out an intensive course of study, tailored to suit your individual goals and requirements.