Grooving to a binary beat
As a DJ who has supported the likes of chart-topping Kiwi band Six60, James Woods, aka Woody, is used to the spotlight.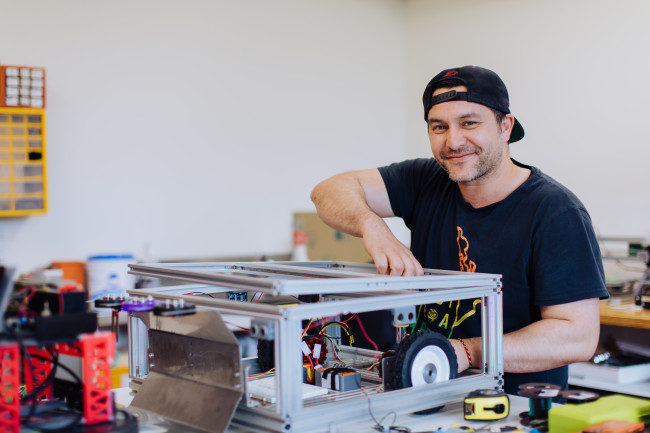 It's been a long journey, but I have learnt a lot of things – not just about I.T. but also about myself.
As Woody prepares for Otago Polytechnic's end-of-year Student Showcase, he is also keen to shine a spotlight on the highly dynamic world of Information Technology.
"I believe there is a misconception that I.T. is only for geeks or brainy people. But I know if I can do it, anyone can.
"I am a high school drop-out who has gone back to study. I'm proud of my achievements. You are never too old to learn," he reflects as he prepares to graduate with a Bachelor of Information Technology in December.
Woody, who grew in South Auckland, gained a diploma in computing in his "younger years", then went on to work in the engineering industry for more than a decade, primarily in Computer Numerical Control (CNC) engineering.
"I loved the computer side of CNC machines and wanted to further my knowledge and learn more about coding, networking, security and general duties involving Information Technology, which is a forever changing industry.
"Being a mature student has its own barriers in terms of 'keeping up' with the younger students but determination and life experience goes a long way."
Woody says his engineering background definitely helped him with the project-based third year of study.
For semester one, he collaborated on a "farmbot" project, which involved developing a robotic method of sowing and maintaining a garden. That project then morphed into a semester two "battlebot" challenge.
I've really enjoyed the teaching style and being hands-on. The tutors really go above and beyond to help you succeed. Being able to identify problems, find a solution and apply myself helped my confidence big-time.
Woody says the strong support from family, staff and fellow students has also helped him deal with mental illness.
"Back in 2017 I was diagnosed with depression and anxiety. It came as a surprise and really hit hard. It affected many things. My studies were put on hold and I was at my lowest.
"But with the help of my supportive whanau, friends, and counsellors I got through it and continue to enjoy life, manage my health and be the best I can be for my family and myself."
As he contemplates a future filled with a healthy mix of raising a family and continuing his musical endeavors, Woody also envisages working with youth – helping them solve problems through Information Technology projects.
"I plan to work and live in Dunedin with my family. I have a few things in the works. I also plan to help our youth through I.T. projects and getting involved wherever I can. They are our future leaders!"
→
Bachelor of Information Technology
Develop high-level technical and problem-solving skills and a solid theoretical understanding of Information Technology concepts in this hands-on degree. If you have existing skills and knowledge due to practical experience in this area, you could study this programme via distance through Capable NZ (our recognition of prior learning centre). You may have already gained credits towards this qualification.