Part-time Otago Polytechnic student, Full-time Otago Nuggets player
I started playing basketball when I was like 10, and just never stopped.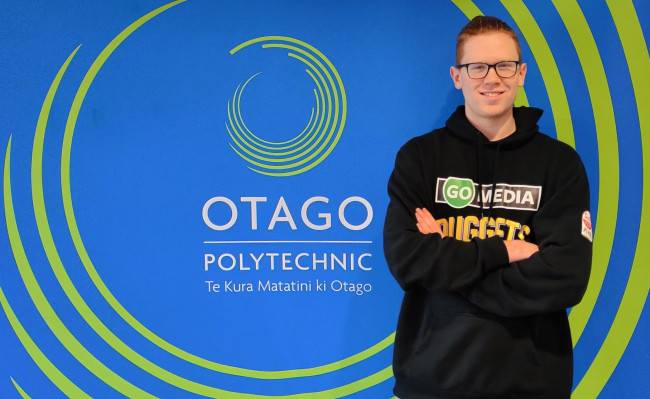 Coming from a small town like Twizel where everyone knows each other to here, its awesome getting to know everyone
Jack Andrew has always had an interest in sports, exercise, and health.
Before moving to Dunedin to start his studies - and his basketball career - Jack knew he needed to study something really active, and hand's on as well.
The New Zealand Certificate in Exercise (Level 4) was a slam dunk.

The reason I chose to study the New Zealand Certificate in Exercise (Level 4) is because it compliments basketball, that's the biggest reason...that and the free gym, Tapuae!
It's a fun course, you learn lots of life skills, and I can apply what I learn from my course into my training

"Plus, the lecturers are really cool and so easy to talk to. They have a lot of basketball knowledge so it's kind of like a basketball community".


Of course, like any sport, basketball comes with the odd injury.
"Usually, games leave you with sore knees or fingers, but having sore knees can actually help. With the information I learn through my course, I understand what's happening inside my body, and what muscles I have to work".
Jack's course has given him a deeper knowledge on how to teach exercise, as well as understanding of human anatomy and physiology - which really comes in handy for game days.


So, what's the next step for this Otago Nuggets player?
"The next step is the Level 5 Certificate at Otago Polytechnic! As for basketball, I want to take that as far as I can. Obviously playing for New Zealand is a top goal of mine. I'm just lucky that I get to do what I love in both sport and study".




→
New Zealand Certificate in Exercise (Level 4)
Start on your path to becoming a Personal Trainer with this exciting new programme. Learn how to teach exercise, gain an understanding of human anatomy and physiology, and discover how the role of behaviour change can lead to lasting results for your clients. Successful completion will enable you to apply for registration as a gym instructor with REPs NZ (Register of Exercise Professionals New Zealand).