From sales to scenery
After 15 years in sales and marketing, Tom Robertson moved across the globe to start a new career surrounded by Central Otago scenery.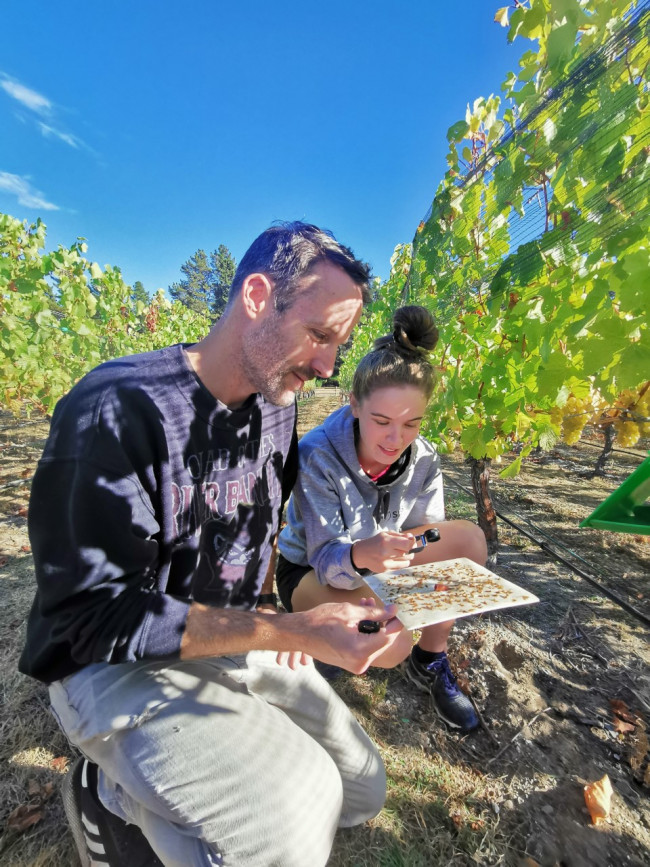 I have been considering this course for a number of years. After talking to lecturers, I was convinced that this course would prepare me for a career in landscaping, as well as in fruit production or viticulture.
Growing up, Tom Robertson never thought twice about a career in landscaping, fruit production or viticulture.
He spent his teenage years in Central Otago, picking cherries which he was never a fan of; and only thought about the garden as something he would walk past on his way out the house.
Fast-forward 20 years and he's out there working in the Central Otago vineyards, orchids and nurseries; studying the New Zealand Certificate in Horticulture production (level 4) (Fruit Production).
"It was a slow burn for me. I grew up in Alexandra but moved away to the UK 20 years ago. Over there I lived in some small apartments which is the only option for many people. That's when I realised how lucky I had been growing up in Central with so much outdoor space, which clearly, I took for granted in my youth. I appreciate it so much more now and I want to be out there amongst the trees as much as possible."
For Tom, the influencing factor to study horticulture was a desire for a career change.
"I worked in sales and marketing for the last 15 years, and I was totally over that. So when we decided to move back to Alexandra in 2020, it was now or never to make a change. It wasn't an easy decision to re-train at this stage of my life, and it is only possible thanks to the support of my family."
Now studying where he grew up, Tom especially enjoys being able to take in the scenery, and opportunities the Central Otago Campus offers.
"Having the horticulture course here makes so much sense, as we get the opportunity to visit different orchids and vineyards and it opens your eyes to the myriad ways and means of growing fruit."
Thanks to his course, he's also been able to work in a full-time role with Two Paddocks Vineyard during term breaks, which has been beneficial to his learning.
"The team at Two Paddocks who have trusted me to work alongside them answered all my annoying questions and taught me so much.
"I would recommend to anyone that chooses to do this course full time, to fit in as much industry-based work as you can squeeze in as it really helps to consolidate your learning."
→
Level 4 Fruit Production (industry-based)
Further develop the fundamental skills and knowledge required of horticulturists in orchards or vineyards while you work. This programme is for domestic students only and you must be working within the fruit production industry. It provides the perfect opportunity for you to upksill via online learning whilst using your workplace as a setting to practice your developing skills. Plus, study in 2022 for this programme is free for domestic students due to the Government's Targeted Training and Apprenticeship Fund (TTAF) (although you'll need to pay for any additional course-related and living costs). Successful graduates will receive the New Zealand Certificate in Horticulture Production (Level 4) (Fruit Production).